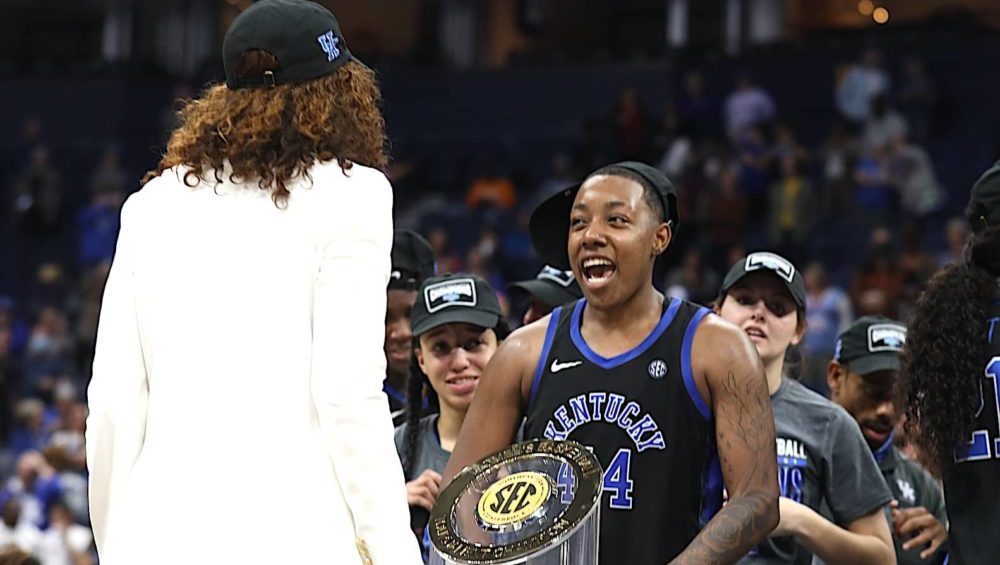 Kentucky winning the women's SEC tourney has inspired the UK men's team. (Vicky Graff Photo)
Kentucky has found some extra inspiration for the Southeastern Conference Tournament in Tampa. Kentucky players say watching the UK women's team win four games in less than 72 hours — and beat the tourney's top three seeds in consecutive games — to win their first SEC Tournament championship since 1982 has motivated them.
"It shows that all Kentucky sports have the same mindset," freshman guard TyTy Washington said Tuesday. "We're going to battle until the clock says triple zero at the end.
"We're not going to give up no matter who we play against. We're going to go out, play hard and fight. That's exactly what the women did and came out with a big win."
The women stunned No. 1 South Carolina 64-62 in the title game after being down by 15 points. John Calapari's team is the No. 3 seed in the SEC tourney and will only have to play three games. However, it could have to face Tennessee and Auburn in the semifinals and final.
"We just know seeing them do it, we know we can do it as well. It adds more fuel to the fire for us," Washington said. "They won it and we want to go out and win it as well."
Oscar Tshiebwe was named the Sporting News Player of the Year Wednesday one day after he was named SEC Player of the Year. He liked what the women did, too.
"It's a great example for us," Tshiebwe said. "It's not going to be easy. We have to go fight and have fun. Nothing is guaranteed, we just need to fight for everything."
Point guard Sahvir Wheeler said the adversity the women's team faced — it played some games this season with just six scholarship players — made their finish even more amazing to him.
"They had to deal with adversity, missing players and they were dealing with injuries," Wheeler  said. "For them to be able to come together as one and go on and get the win that they had is amazing. That feels good knowing that your women's team did it and they've dealt with adversity.
"We've dealt with some (adversity) as well. For them to do it gives us an extra boost, like 'Hey, we can go out and do this as well.'"
Wheeler said the Cats have to take it one game at a time in Tampa just like the women did to win their tournament title.
"We're trying to win it obviously, but we're also trying to make sure we do what we're doing to get ready for the NCAA Tournament — playing for seeding and making sure we can be the highest seed that we can be and making sure we continue getting better as a team," Wheeler said.
"I'm super excited to get down there and compete for an SEC Tournament championship."
Washington admits he was more than a bit excited when Dre Edwards hit a 3-pointer with four seconds left to put UK in front of South Carolina.
"I started screaming. I was watching it in my game chair, I was like 'Shoot it! Shoot it!' and she made it," Washington said. "Dre and Jazmine (Massengill) were actually the first two on the women's team that I met (when he got to UK) and ever since then, we stayed connected. We always checked in on each other and stuff like that. Seeing her hit that shot was amazing."