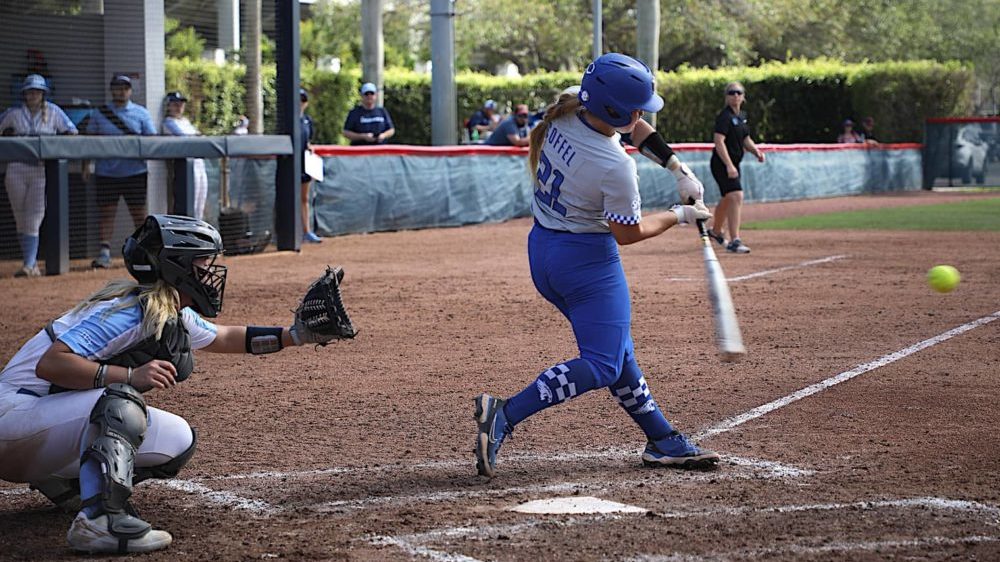 Sophomore Erin Coffel leads the SEC in RBI's and is third in home runs. (Photo by Vicky Graff)
Even though her team went 2-2 last week, sophomore shortstop Erin Coffel had such a dominating week that it was impossible to ignore — and that's why she was named the National Fastpitch Coaches' Association's National Player of the Week.
If that doesn't impress you enough, just know the last time a UK player won a similar honor was Griffin Joiner eight years ago in 2014.
Surprisingly, even though she was good enough to be national player of the week, Coffel had to share Southeastern Conference Player of the Week honors with Tennessee's Ivy Davis.
Coffel hit .667 in three games against Arkansas and one against Louisville. In the SEC showdown at Arkansas, she hit .700 with three home runs and drove in 10 runs. She had two home runs in UK's 10-7 comeback win over the Razorbacks.
Coffel had at least one hit in each game, including a three-run homer against Louisville. Defensively, she did not make an error.
Coffel is hitting a team-high .441 this season with a team-best 14 home runs and seven doubles. Her 51 runs batted-in are also easily a team best and also the best in the SEC. She is fourth in the SEC in home runs.
The Indiana native has 30 career home runs along with 107 RBI's. Abbey Cheek is UK's career RBI leader with 202 from 2016-19 and the career home run leader with 61.
* * *
The Wildcats play at Eastern Kentucky tonight at 6 on ESPN+ and the ESPN app. Kentucky will host a three-game series with Missouri Saturday through Monday.