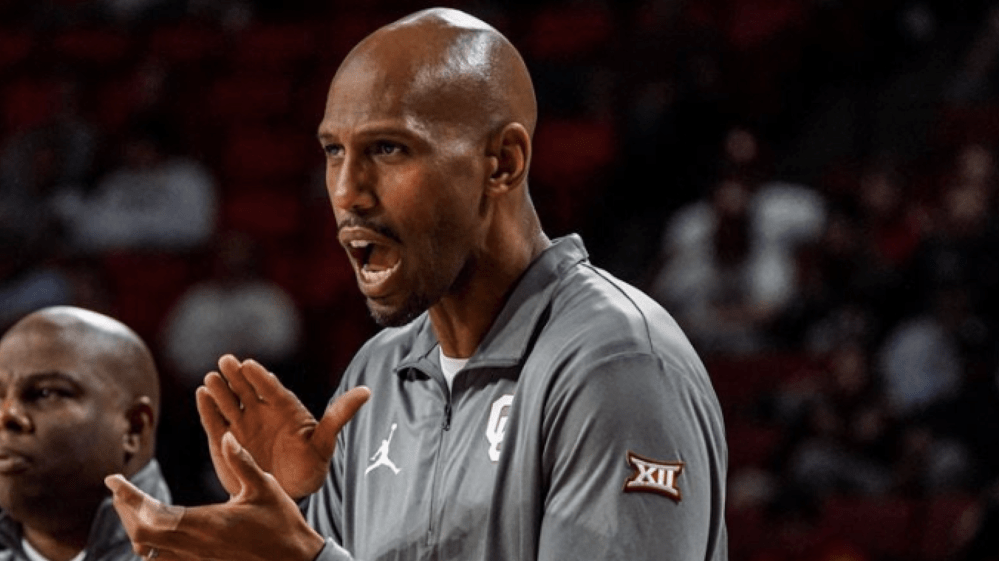 K.T. Turner sometimes has to rely on his 12-year-old son for advice in recruiting. (Oklahoma Athletics Photo)
When Jai Lucas left Texas for Kentucky to give  coach John Calipari a younger assistant coach, his replacement at Texas was K.T. Turner.
When Lucas recently left UK after two seasons to join the Duke staff, Calipari turned to Turner — who spent the last season at Oklahoma — to replace Lucas.
"Jai and I good friends. It's just ironic (that he replaced Lucas again). It's nothing we tried to do," said Turner.
Turner is 43 years old — but that is 10 years older than Lucas. Could that be a problem for Calipari and his staff not having a "young" coach who understands the culture of today's players?
"I kind of listen to some music they do but not all of it," said Turner. "I have a knack for creating relationships. I just continue to talk to them."
He also has a young son he relies on at times to explain to him what players 17 to 21 years of age like or do not like. However, he doesn't sugarcoat the value of a youthful presence in recruiting.
"Recruiting is a youthful thing I think. You have to relate. If you are 60 years old it is hard to relate," he said.
Calipari is 63 years old. Kentucky assistant coach Orlando Antigua is 49 years old. Assistant Chin Coleman is in his mid-40's.
"It takes youthful thinking to carry on a conversation and know things they (recruits) are. My son, who is 12, helps me out," Turner said.
Turner has known both Antigua and Coleman "for a while" and coached against Coleman when Turner was at Wichita State and Coleman was at Bradley.
"He was talking before the game. The first time I ever met him he was talking," Turner said. "He said he was going to whip us. We won that game."
Now Turner is doing the talking with recruits and he says he loves the "relationship piece" he builds with players.
"I love building relationships with guys and families. It is a lifetime relationship when they come," Turner said. "Sometimes even guys I do not get, we stay in contact and I try to help any way I can."