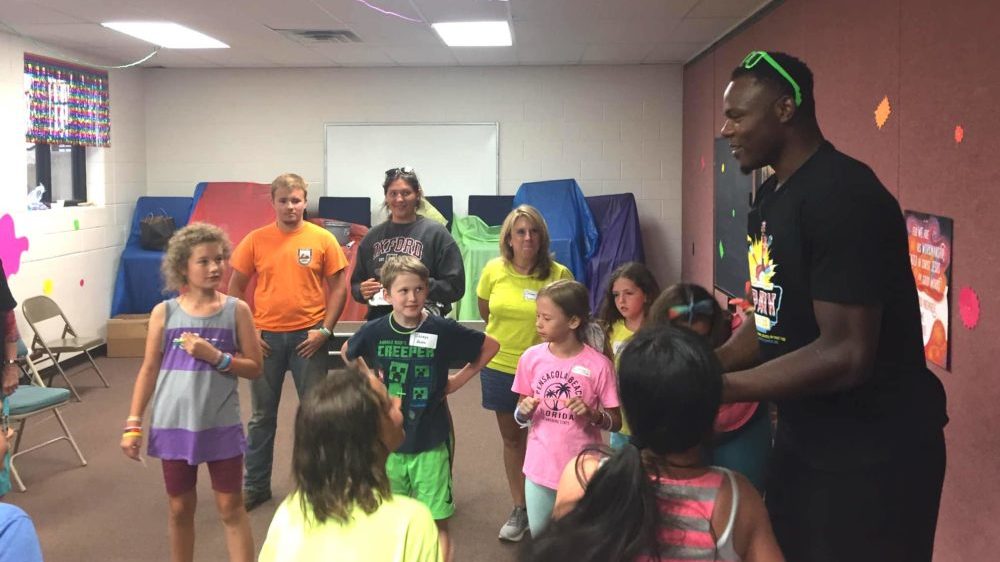 All-American Oscar Tshiebwe interacted with youngsters at Broadway Baptist Church Vacation Bible School Friday night in Lexington.(Ray Vaske Photo)
Imagine being the consensus national player of the year and basketball royalty in the state of Kentucky and yet being willing to take a pie in the face at Vacation Bible School in front of about 200 kids.
That's what Kentucky All-American Oscar Tshiebwe did Friday night at Broadway Baptist Church, a church in Lexington where he preached earlier this year and regularly visits because of his friendship with pastor Daniel Ausbun.
"We do a love offering each year at Bible School with all the money collected going for a children's home in Lexington. It is girls against boys to see who raises the most," said Ray Vaske, a church member and 2002 UK graduate.
If the girls raise the most money, Ausbun normally takes a pie to the face at the end of Bible School.
"Daniel was ready to take the pic in the face and Oscar came up and said he would take it for the pastor," Vaske said. "They picked a little gal out of the audience and she put the pie in his face. He had a bunch of whipped cream all over his face but just smiled."
"The guy is just amazing. He is not being paid to do any of this. It's just him donating time for the children. He is amazing. Everything he does is so genuine. He is so giving and caring."
Vaske said Tshiebwe has the "heart of God" and knows basketball gives him a platform to share his faith.
"We have different stations with activities for the kids with their own teacher/instructor. I had the absolute honor of hosting Oscar as we visited each station," Vaske said. "We went to recreation first and he interacted and played with the kids."
"Occasionally he would ask kids what they knew about God and the Bible. We went to the craft area. Lastly we present the gospel to the children with a Bible lesson. Oscar sat there for all of that. It was such an incredible evening for the youngsters and for this big kid. I just couldn't believe I was with this great player and seeing him touch so many young lives in a way only he could."