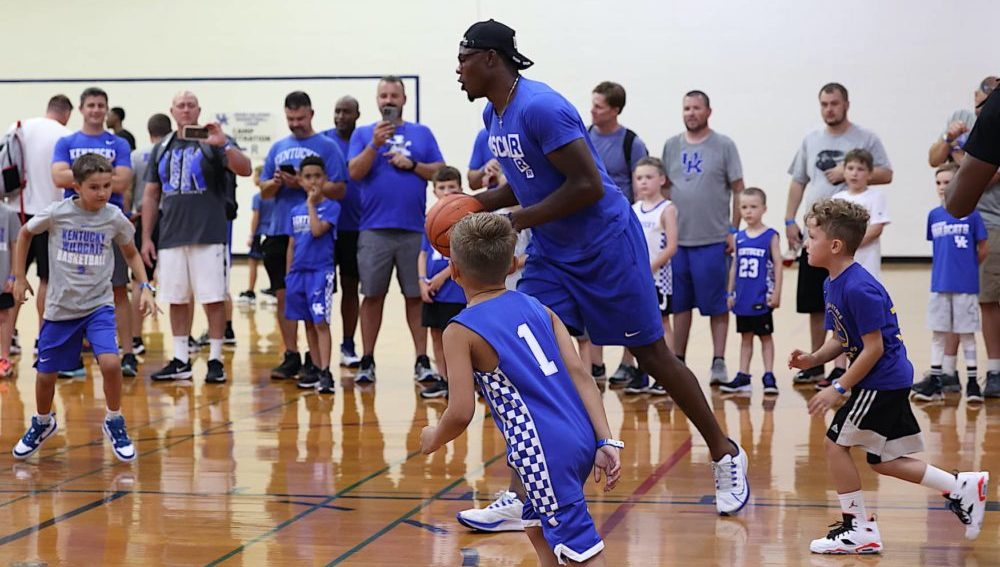 Oscar Tshiebwe is so focused on helping UK win its ninth national title that he wanted to wear No. 9 on his jersey. (Vicky Graff Photo)
Oscar Tshiebwe has No. 9 on his mind.
"We all got one goal, it's for number nine," said Tshiebwe, the unanimous national player of the year last season, Thursday. "I came back for one reason and I hope God will fulfill our purpose."
"Before I leave here — I don't just come in, pick up my trophy, and go home… Number nine, that's my purpose."
That "9" would be a ninth national championship for Kentucky, something the Cats felt they had a chance to attain last year before being stunned by St. Peter's in the first round of the NCAA Tournament.
Tshiebwe mentioned No. 9 several times during his press conference Thursday and is so obsessed with the number that he wanted to have that number on his jersey — a no-no with NCAA rules. He wore No. 34 last year and will again this season.
"Why did the NCAA stop with number five? You cannot go up. I was trying to get number nine, to wear number nine, just to remember this is my number for this year, I have a purpose for this number but they told me I can't wear number nine," he said.  "The numbers stop at five. I was like wow this is crazy."
Tshiebwe said he is "putting No. 9 everywhere" he can to remind him of his team's priority this season.
"We have a purpose," the All-American center who led the nation in rebounding last year said. "This year we can't joke around. Everyone has got to do what they are supposed to do and stay focused."
"We have got to be together. Together makes you one and more stronger. I think this team has a lot of potential to be No. 1 team. If we keep the same routine, we have a lot of chances to be No. 1 if we just stay together."