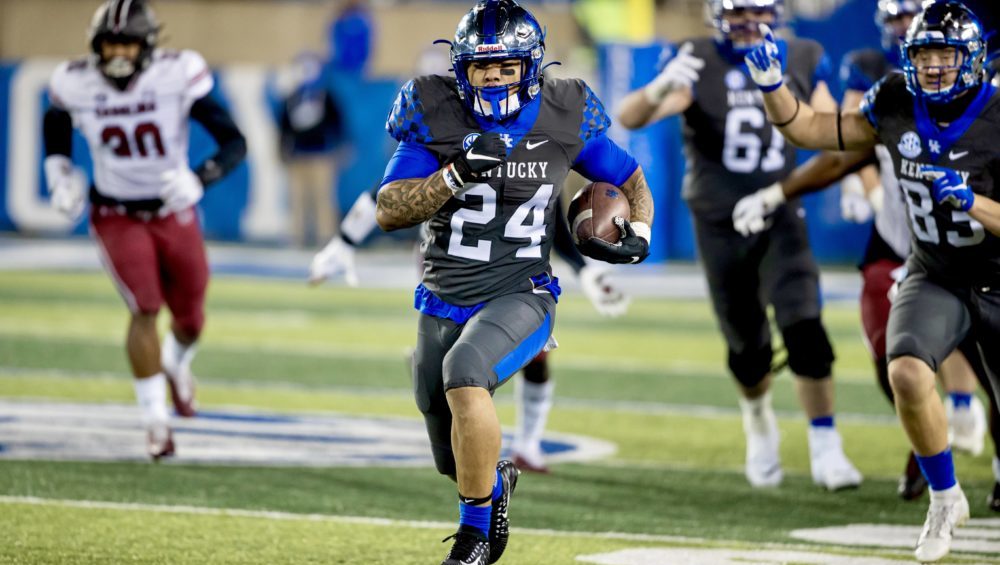 Chris Rodriguez has been at every workout this summer according to UK offensive line coach Zach Yenser. (UK Athletics Photo)
Will running back Chris Rodriguez be in the starting lineup when Kentucky opens their season?
That's a question most Kentucky football fans have been speculating about since the star running back's DUI arrest and guilty plea — not to mention another "potential" roadblock to him playing that has been the subject of a lot of speculation.
Kentucky coach Mark Stoops has said nothing about Rodriguez but that will change Wednesday in Atlanta when the coach, quarterback Will Levis, offensive lineman Kenneth Horsey and linebacker DeAndre Square arrive for Southeastern Conference Media Days.
It might not be the first question Stoops is asked, but it will be among the first and should be.
Rodriguez is the SEC's leading returning rusher after running for 1,379 yards — fifth on UK's single season list in n 2021 when he averaged 106.1 yards per game and had nine 100-yard games. He also had 13 receptions for 61 yards and three touchdowns and new offensive coordinator Rich Scangarello openly talked about getting him even more involved in the passing game during spring practice.
 
Rodriguez has 2,740 career rushing yards (sixth on UK's career list), 26 career touchdowns (tied for second on UK's career list) and 15 100-yard games (third in school history).
"I really like our running back room. We have got some very talented ones who will be in our wide zone attack," new UK offensive line coach Zach Yenser said Tuesday at the Louisville Quarterback Club.
But will Rodriguez play? Is there any truth to the speculation that he might not play or at least miss some games?
"Chris is there with us now working out," Yenser told the Louisville Quarterback Club members. "I have not been told anything different. He has been getting ready for the season and has been at every workout."
"I know he makes me a better football coach. That's all I know."
And all I know is that Rodriguez on the field makes Kentucky a better team.
Now we'll see what updates Stoops provides Wednesday in Atlanta.