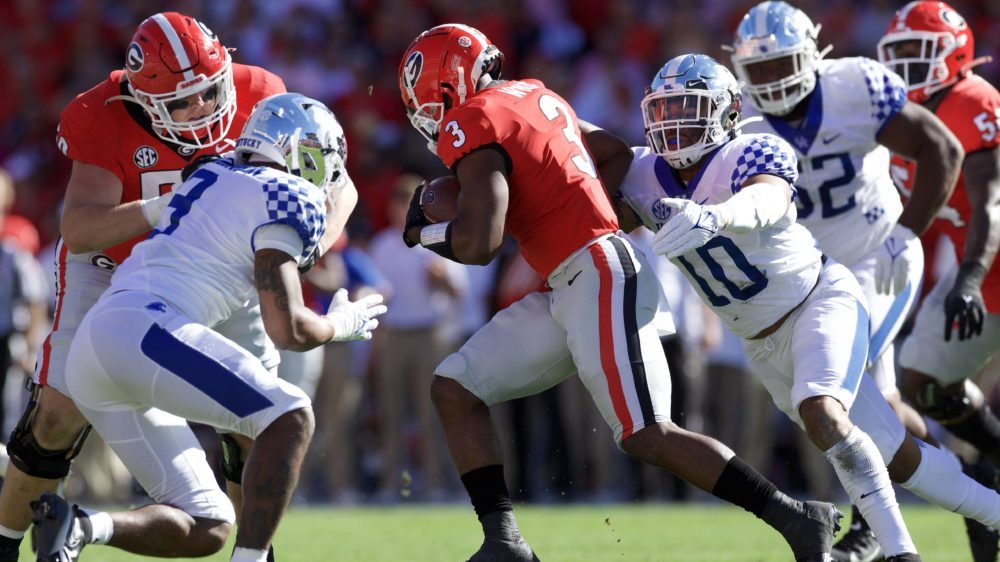 Mark Stoops knows there was a big gap between Georgia and other teams in the SEC East last year. (Vicky Graff Photo)
Can Kentucky really "out-Georgia Georgia" to win the Southeastern Conference Eastern Division?
That's the belief/hope in the Bluegrass that this could be the year UK beats Georgia, the defending national champion, when the Bulldogs come to Lexington in November.
Kentucky coach Mark Stoops obviously knew he would be asked about Georgia at SEC Media Days in Atlanta Wednesday.
But Stoops also got asked about a late 22-play, 75-yard touchdown drive that UK had in the fourth quarter when the Bulldogs had the game won.
"It definitely was just playing the game. Everybody knew if you played Georgia last year what they were all about, how good they were," said Stoops. "At that point maybe the game was over as far as who was going to win and who was going to lose. However, our players need to continue to fight, they need to compete."
"We're into no moral victories, but we're into getting better. When you're playing, what, the very best, probably the best defense in the nation last year, you're competing and you're moving the football, you're trying to get better, you're trying to improve, you're trying to learn what it's like to play the very best in the country."
"That's what we did in that particular drive. But that was one drive. After that, I really hadn't put much thought into it until you just asked."
Okay, now for the harder question — how does Kentucky gain on Georgia.
Give Stoops credit for his honesty here.
"I can't answer that. I just saw (Georgia coach) Kirby (Smart) up there, I could maybe try to whack his knees out or something, knock him out for a minute," Stoops joked.  "He's done a great job. I have a lot of respect for Kirby, the way they coach, recruit, the things they do in the program, they're doing things right."
"I have to worry about us, how do I make us better. We had an opportunity a few years ago to play him for whoever won that game, essentially one shot in the East. They took care of business. Hopefully next time when we're in that situation, we're more prepared."
"That's the way I've always approached it with us. Last year we were fortunate enough to finish second in the East. However, we all know there was a large gap between Georgia and No. 2. We're all trying to close that gap."