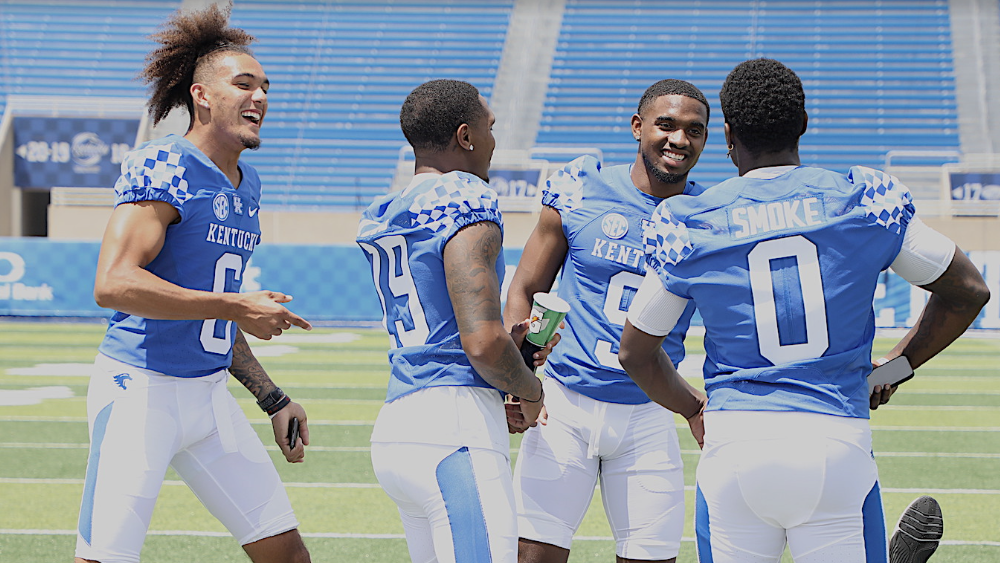 Dane Key, left, is popular with UK coaches and teammates. (Vicky Graff Photo)
It can be hard on a media member when an athlete you have known for years and watched play becomes a big-time college athlete and you have to balance friendship and media responsibilities.
It's a fine line I have been blessed to have to juggle numerous times because my area has produced some terrific college athletes.
Now former TV sports reporter and current Kentucky Sports Radio personality Ryan Lemond is having to balance his long-time friendship with Kentucky freshman receiver Dane Key and his job of sharing UK sports information daily on the radio.
At UK's Media Day on Wednesday, I asked Key if he had to report to Lemond with football news.
"He will text me sometimes and ask how everything is going or if I want to come over and eat or get in the pool," said Key. "We keep in close contact. But he doesn't bother me for any information but I will tell him some things here and there and he is willing to listen."
Willing to listen?
Of course, he would. I would too. You want to know as a friend first and then as a media member. The issue is deciding what you can share, especially with a potential future star like Key.
Stoops once again praised Key at Wednesday's Media Day. It has been a summer-long trend. Quarterback Will Levis even proclaimed Key a starter at SEC Media Days.
"That is just the relationship me and coach Stoops have. I can go talk to him about anything. I know he thinks highly of me not only as a football player but as a person," Key said. "I think so much of coach Stoops. Anything he mentions me in, I can't thank him enough."
Doesn't he know Stoops is not normally prone to dropping names of freshmen as often as he has mentioned Key this summer?
"I just have to keep proving to coach Stoops what he keeps preaching," Key smiled and said.
The freshman said he has been able to "catch a couple footballs" to possibly impress the UK head coach.
What impressed Levis so much?
"Me and Will have a really good connection. We throw on the weekends, we throw a little bit after practice so we can build that chemistry just so I know Will will like me," Key said.