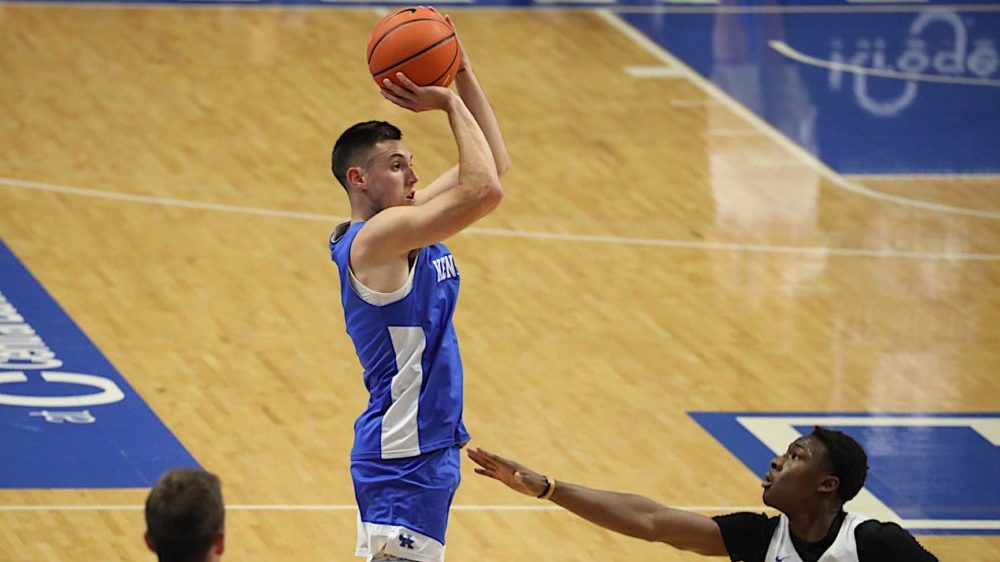 Kentucky fans might need to be patient as CJ Fredrick works his way back into top playing form. (Vicky Graff Photo)
Kentucky fans loved seeing CJ Fredrick hit 3-point shots immediately when the scrimmage Tuesday night's open practice started.
That's what UK fans — and coach John Calipari — expected last season when he transferred from Iowa but leg injuries kept him from playing all season.
Now he's healthy and being counted on to make shots starting with the four-game exhibition tour in the Bahamas next week. However, assistant coach Orlando Antigua preached patience when it comes to the guard who is a career 47 percent shooter from 3-point range in college.
"We have got to temper expectations a little bit. He is still in the process working himself back to full capacity. He's been doing great, going live 5-on-5," the UK assistant coach said.
Fredrick has changed his physical appearance through work in the weight room and nutrition.
Antigua also thinks he benefited in some ways last year even when he did not play.
"Any time you can detach yourself from the game as a player or coach … we did a lot of conversing with him last year about what did you see," Antigua said. "It gave him a different perspective. He is a high IQ kid. The mental reps he was taking last year helped."
"He is a career 47 percent 3-point shooter. Adding that to a team is special. He is a great teammate and has a competitive edge. He can play different positions and plays with an edge you want."
"He spaces the court a lot but he is more than a one dimensional player. He passes and knows how to use his other weapons to help his teammates."