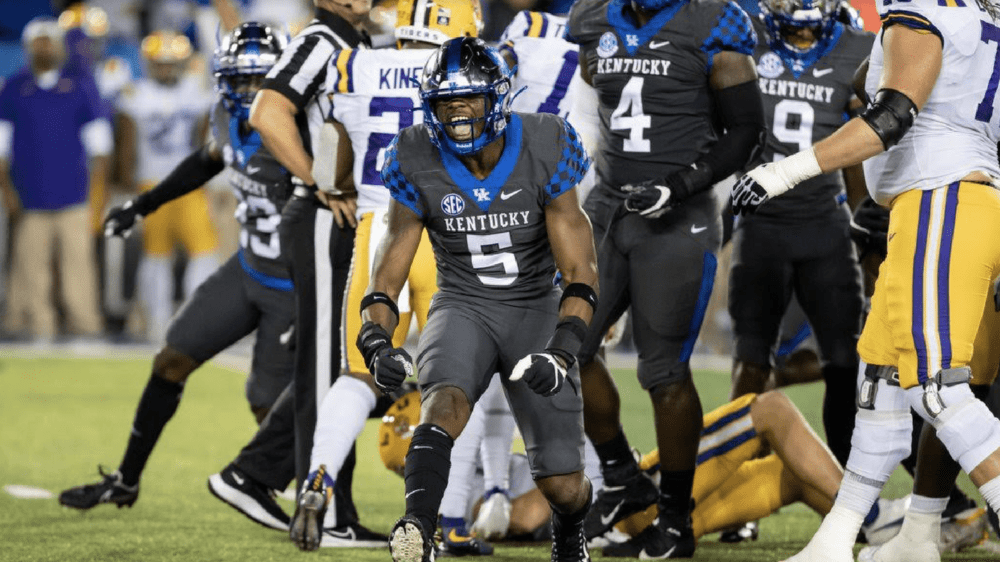 Linebacker DeAndre Square has been a key player on two 10-win teams at UK and defensive coordinator Brad White is counting on his leadership even more this season. (Vicky Graff Photo)
Josh Paschal not only was a big playmaker for the Kentucky defense last season but he was also UK's team leader the last three years. When he talked, everyone on defense and offense — and the coaches — listened to him.
He overcame a bout with cancer to return to the playing field and become a third-round draft pick of the Detroit Lions and UK defensive coordinator Brad White understands what losing him means. However, White seems reason for optimism.
"In most years and most cases that would be a huge void (losing Paschal)," White said.
However, he notes that UK's defense in 2018 was one of the tops in school history and that linebackers DeAndre Square and  Jordan Wright along with defensive back Tyrell Ajian all played significant roles on that defense just like they will again for UK this year.
"Guys who have played and started as many years as they have and to get those guys back for an extra year (due to COVID) … they were great leaders last year and they get another go-round," White said. "I think we have a lot of guys who can lead. The void is not as drastic as you might think. If we had lost all those guys, that (losing Paschal) would have been a bigger issue."
A fully healthy JJ Weaver back at linebacker also has White feeling good about his defense. White says Weaver has a "confidence" about him after getting fully healthy from his torn ACL at the end of the 2020 season.
"He's playing fast, communicating. He's a guy that's very much in control of his position right now," White said about his outside linebacker. "We need him to make that next step. He has to be a difference maker for us on defense."
Kentucky coach Mark Stoops says he knew Weaver was not 100 percent last season even when he was playing well.
"Him being a year further removed from that and healthy will make a big difference in his play," Stoops said.