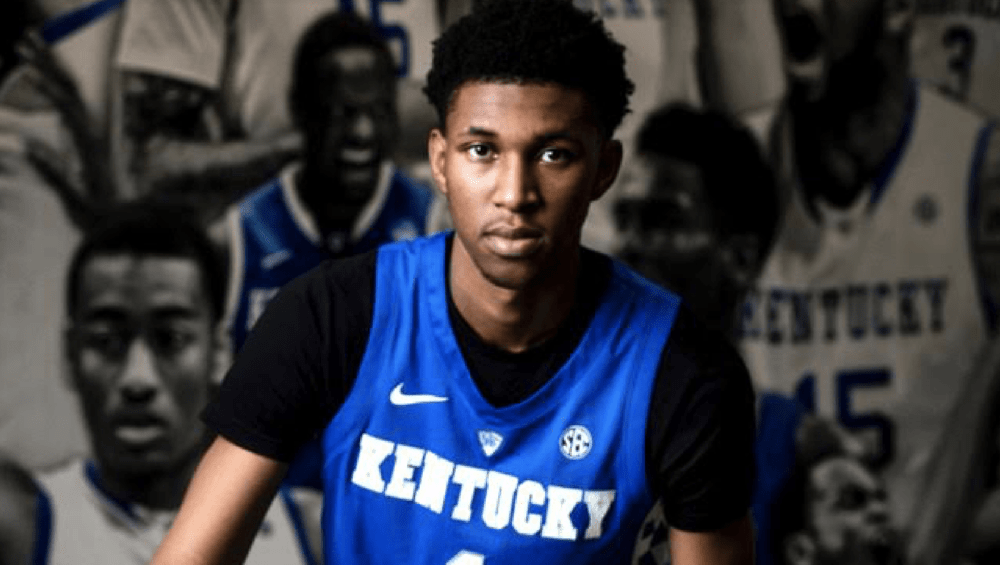 Kentucky commit Justin Edwards of Philadelphia could be a lockdown defender for coach John Calipari. (Twitter Photo)
Philadelphia sportswriter Joseph Santoliquito has watched Justin Edwards blossom into one of the nation's best players in the 2023 recruiting class and it did not surprise him when the 6-7, 180-pound athletic wing verbally committed to Kentucky last week.
"When Cal (John Calipari) totally invested in him, that really swayed Justin," said Santoliquito. "It was a dream of his to go to Kentucky and now it is coming to fruition. I have been around Cal and know how persuasive he can be."
"He was getting hit up by coaches even when it narrowed it to Tennessee and Kentucky. After talking to his mother and coach, he was putting a lot of heat on himself. He made a good decision that he can be happy with."
Edwards played a big role in making Calipari and Kentucky fans happy, too.
"I think that kick in the tail Kentucky got last year getting beat by Saint Peter's put a charge up his (Calipari's) tail. He seems like a new and invigorated guy," Santoliquito said. "I am not saying he put it on cruise control before but what happened might have been a blessing in disguise. He has a lot of motivation to turn things back around and I know he's really going to push Justin."
Santoliquito met Calipari when New Jersey phenom Tyreke Evans played for Memphis.
"Cal pushed Tyreke and changed his mindset to put more emphasis on defense. That's what Cal will do with Justin. He will tweak and push that defensive side that no one likes. He will pull that out of Justin," Santoliquito said. "If Justin wants to play defense, he will shut your tail down. That light will be lit constantly by Cal."
Edwards  led Imhotep Charter (28-4) to a Philadelphia city championship and Pennsylvania state title last season when he averaged 18.3 points and 8.3 rebounds per game. Edwards played well on the Nike EYBL circuit and then averaged 16.3 points, seven rebounds, three steals and one assist per game in six games at Peach Jam.
Edwards is a consensus top three player in the 2023 recruiting class and many analysts believe he could be No. 1 when the year ends.
"He is a great player. No question about that. But he is also possibly an even better player," Edwards said. "You don't have to worry about where he is at 2 or 3 in the morning. If he is up, he's playing video games."
"He is someone I like to define who arrived with a work ethic that exceeded his  talent. Now they go hand in hand. He made his talent blossom. I don't think he was a top 50 player as a sophomore and now he arguably is the No. 1 player in the 2023 class. He got bigger physically, matured mentally and made himself into someone special."
The Philadelphia sportswriter believes Edwards checks all the boxes to be a successful player for Calipari at Kentucky. He also believes Calipari is the right coach to help him reach his goal of playing in the NBA
"I know the effort he puts into his players. Justin will embrace that. He loves being pushed and challenged," Santoliquito said. "I don't know if he can be a one-and-done player only because he's got to put more meat on his bones. He's got to develop into a man. But as he grows and matures physically, he's only going to be better. His best basketball is ahead of him."
Another Kentucky commit, North Laurel senior Reed Sheppard, obviously feels the same way about Edwards.
"I got to watch him play a little bit at the (NBPA) Top 100 Camp, hung out with him a little bit," Sheppard said last week at his basketball camp in Georgetown. "It was really neat being around him, talking to him, trying to convince him to come to Kentucky while we were there at that camp. I kind of had an idea before that he was going to come to Kentucky."