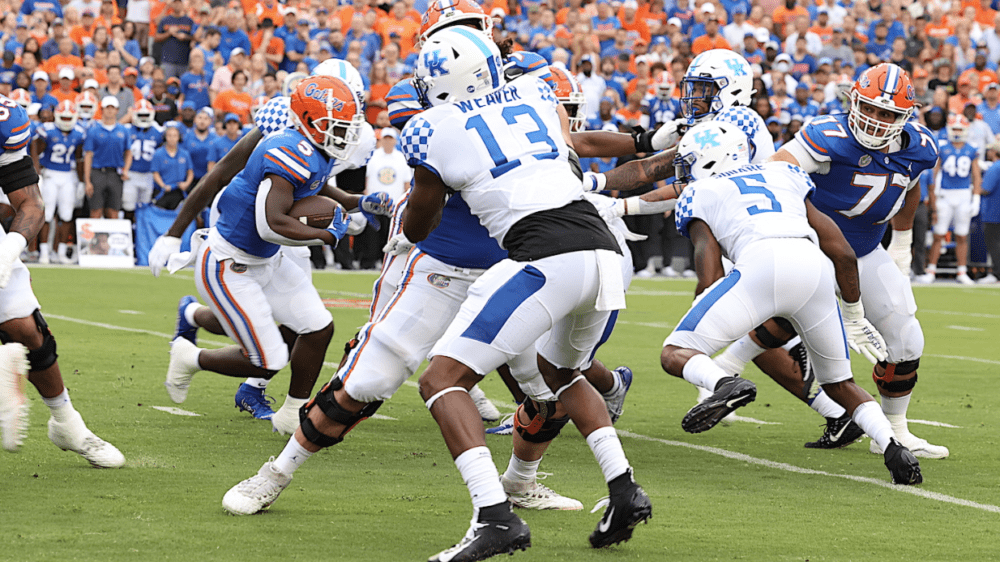 Kentucky's defense certainly did not play soft when it kept Florida from scoring the second half. (Vicky Graff Photo)
Just in case you were not sure how much SEC Network analyst Roman Harper's remarks about Kentucky being too soft to win at Florida motivated the Wildcats Saturday, let associate coach Vince Marrow explain the impact it had.
"Look man, (UK coach) Mark (Stoops) said it best. You can say a lot of stuff about us but you are never going to say we are soft," Marrow said. "We don't need fuel to play in the SEC."
"(The soft comments) just put a little more sprinkle on it. Right before I went to the field I turned to (running back) Kavosiey] Smoke and said, 'Don't you forget these bleep-bleepers called you soft.' It united us."
It did. UK fell behind 16-7 before scoring the next 19 points to win 26-16 and beat Florida for the second straight year and third time in the last five years.
"We have a great bunch of guys. We knew we would show we weren't soft," Marrow said. "We had a good game plan going down there."
Stoops obviously took it personally when his team was called soft and made that clear after the game in his postgame press conference.
"You got to be a tough son of a b**** to come into this environment and win and this team is built that way. We've shown it. We may win, we may lose, but, by god, we're going to be tough," he said.
"One thing we're not is soft. We may be a lot of things, but we're not that."
Marrow said anyone needs a "good leader going to war or anything" else and UK football has that with Stoops.
"We take on his personality. Players really love playing for him," Marrow said.