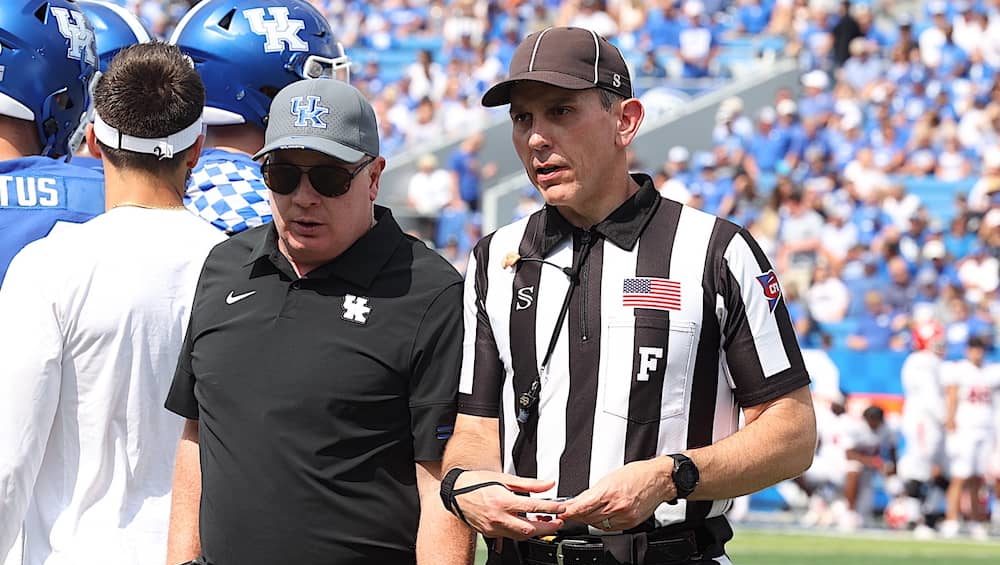 (Vicky Graff Photo)
Kentucky football is on such a good roll now that it is easy to forget it was not always this way for coach Mark Stoops.
Don't forget his first team in 2013 went 2-10 and was not very good. His next two teams both went 5-7. That was a 12-24 start— and no way could anyone have realistically believed in 2022 that Stoops would be 51-29 since then and is now 63-63 at UK with six straight bowl appearances, including four straight bowl wins.
Kentucky is ranked No. 7 nationally going into today's game against Ole Miss and would be 2-0 in SEC play with a win — with both victories on the road.
On this week's SEC coaches teleconference, Stoops was asked if he had felt nervous after starting his UK career with three straight losing seasons.
"Not a bit as far as my future. How did I feel? You obviously always feel a little pressure because you want to deliver for the people that have invested in you, that believed in you, your fanbase, your players. That puts the stress on," Stoops admitted.
"I was never — I think, no disrespect to you because you probably didn't follow us that closely that long ago, but that narrative gets a little old because anybody that had any idea what was going on around here could clearly see that we were always making progress."
Yes Kentucky was. Stoops' first team was talent-poor. Stoops and his staff still coaches just as hard as they do today but UK was just overmatched talent-wise almost every game.
Today Stoops has his best overall roster in his time at UK and it continues to show.
"We all want it to happen faster. And in today's world, it is easier to turn it around because of the transfer portal. But back then with the limitation on signing classes and the transfer situation not being as open as it is, I mean, it just was going to take time," Stoops said.
"So fortunately for me, I worked with an administration and a president that understand. And that very clearly everybody knew around here we were making improvement no matter what the record showed."