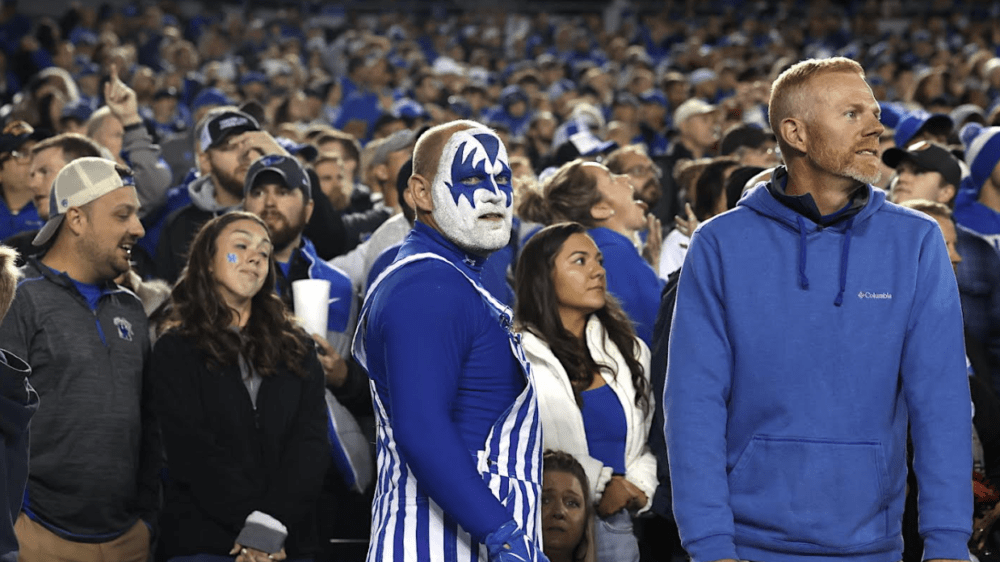 Mark Stoops told UK fans Monday he was sorry his team played so poorly against South Carolina. (Vicky Graff Photo)
Mark Stoops was understandably upset with the way his team played in Saturday's 24-14 loss to underdog South Carolina that dropped Kentucky to No. 22 in this week's Associated Press rankings.
However, Stoops certainly was not upset the way Kentucky fans turned out to support UK. He mentioned that on his postgame radio show after the loss but not in his postgame press conference. However, he shared the love of BBN at his press conference Monday.
"I failed to mention it Saturday, but obviously, you've heard me say it before, when you don't deliver for the fan base, it kind of bothers you as a head coach because you appreciate them so much," Stoops said.
"I thought coming into the game Saturday, the tailgating, the people, the environment, the stands, it's been remarkable and greatly appreciate that. Need it again here this week (when UK hosts Mississippi State) to get back on track and sorry we did not deliver."
Stoops did not guarantee a win over Mississippi State, one of the SEC's more impressive teams recently, but he did make a promise to UK fans.
"I can promise you our team is working hard, and we are excited about this week and need to have that same environment we've had all year. We really appreciate that, and we are going to need it," Stoops said.
However, Stoops knows no matter how supportive the crowd is against Mississippi State, that won't fix the problems that cost UK in losses to Ole Miss and South Carolina.
 
"The only thing to fix anything is to get back to work. We know that, we've been there. We understand what it takes, our team knows what it takes, our coaching staff knows what it takes, and we got to get back to work," Stoops said.
"There's nobody that's going to feel sorry for you. You get back to work, get back on the horse and get back at it here this week."