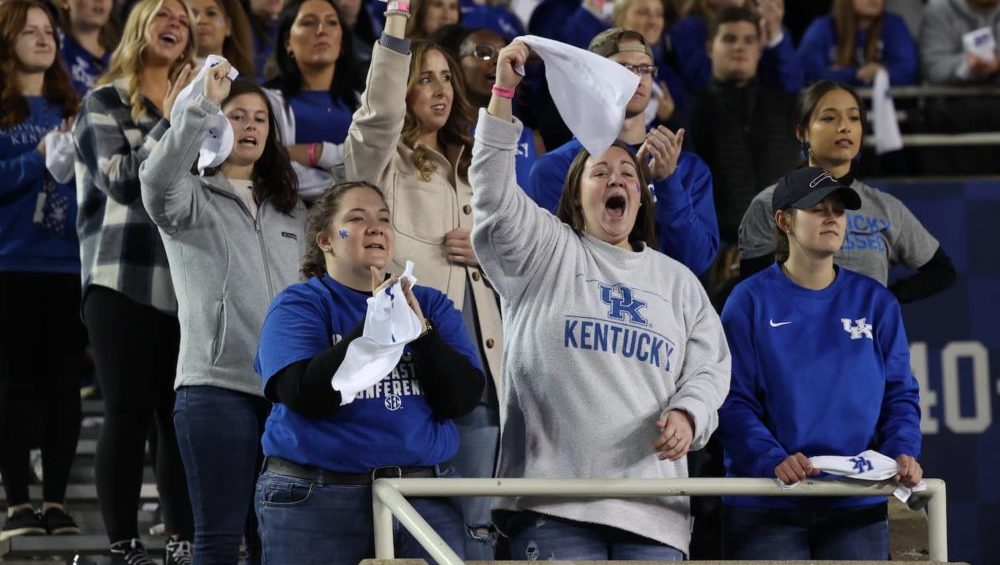 Kentucky fans gave a needed boost to the Cats again Saturday night. (Vicky Graff Photo)
Mark Stoops had a lot of players who deserved credit for Kentucky's 27-17 victory over Mississippi State that broke a disappointing two-game losing streak.
Running back Chris Rodriguez and quarterback Will Levis were both very good. The entire defense was impressive, especially linebacker DeAndre Square (11 tackles, four solo stops, one interception) and cornerback Carrington Valentine (six solo tackles, one quarterback sack, one tackle for loss).
However, Stoops also wanted to thank one other group — Kentucky's fans.
He knew BBN was disappointed with a loss at Ole Miss and last week's home loss to South Carolina, one where he openly admitted his team did not play nearly as hard as it should have.
But Kroger Field was close to capacity Saturday night and the UK fans were loud most of the game.
"I have to say before I forget and get into questions, that I cannot thank our fan base enough," Stoops said at his postgame press conference. "We've had a lot of home games. We've had some ups and some downs."
"Came back this week again pulling in, seeing the people, seeing the tailgating, seeing the packed stadium, hearing them, staying till the end, cheering like they did. Thank you. Amazing."
Senior offensive lineman Kenneth Horsey also had a shout out to the crowd on the UK Radio Network after the win.
"We heard you all night," Horsey said. "You were rocking' tonight. You were the reason they (Mississippi State) had some false starts. Shout out to BBN for keeping this rocking."
Horsey said the players felt bad about how the team played in the home loss to South Carolina.
"We know we have the best fans in the country and every time they come to Kroger Field they deserve a win," he said.