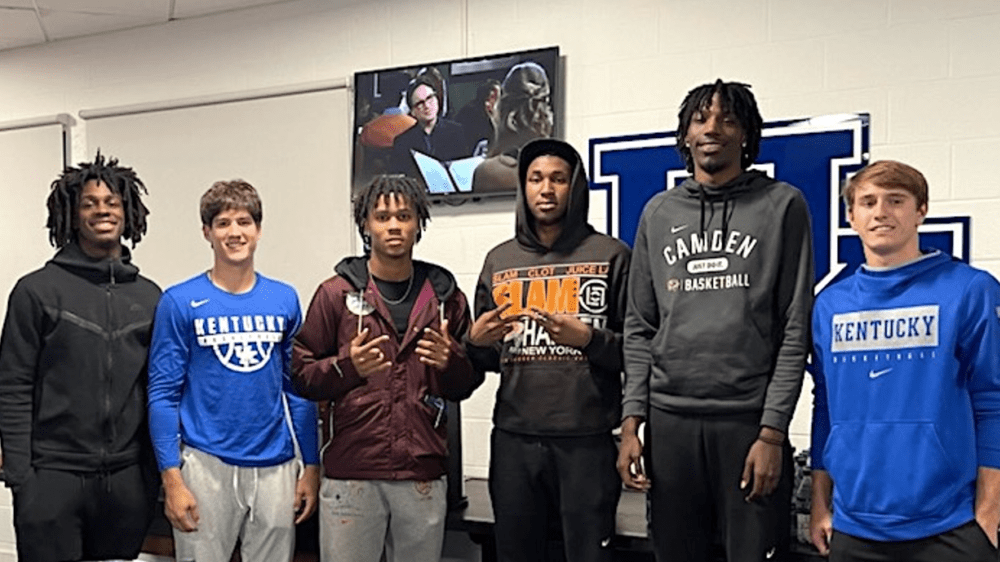 Travis Perry, right, was at Big Blue Madness along with, from left, Ian Jackson, Reed Sheppard, DJ Wagner, Justin Edwards and Aaron Bradshaw.
As the college offers continue to increase, Lyon County junior guard Travis Perry says he has gotten more comfortable with the recruiting process.
"At the beginning it was kind of a shock that all this is really happening," said Perry. "As a kid, you want to talk to coaches. Then you get a taste of it and it is kind of shocking and nerve-wracking."
"As the process goes along you start treasuring it more. You are grateful for it and humble and realize how blessed you are just getting to talk to all these great basketball minds."
You are hanging out with coaches and everybody on campus wants to talk to and take pictures with. Then you realize you can spend the day with them or call them whenever you want. People are so starstruck with coaches that I just get to meet. When I went to Michigan, people took pictures of us on the golf course.
"So I wouldn't say I am totally comfortable with all this. I am just trying not to get caught up in it but definitely you enjoy it."
Perry has a scholarship offer from Kentucky coach John Calipari along with offers from Michigan, Purdue, Bradley, Cincinnati, Creighton, Iowa, Missouri, Nebraska, New Orleans, Ohio State, Mississippi, Stanford, Vanderbilt and Wake Forest. He attended Big Blue Madness last weekend along with several UK commits and others with scholarship offers.
Perry had been to a UK practice a week earlier. He took a visit to Vanderbilt before his family went to Gatlinburg for a few days. On the way home he texted Calipari to see if he could come watch practice.
"They are extremely athletic. That's one thing you really notice when you watch practice. Daimion (Collins) is always above the rim. So are Oscar (Tshiebwe) and Jacob (Toppin). There are always 10 guys going full speed. It was pretty impressive," Perry said
Perry said Calipari walked the players through several offensive sets and he was "in charge" of the operation.
"During the live drills, he was heading those up too," Perry said. "The assistants were also helping out but it was clear Calipari was overseeing everything."
Perry got his Vanderbilt scholarship offer during his visit and said the "academics" at Vandy are impressive.
"I take academics seriously. It's also only about an hour and a half from home," he said. "It was good to meet coach (Jerry) Stackhouse and see practice."
Lyon County has started preseason practice. It finished 29-7 last season, won the 2nd Region championship and beat John Hardin in the state tourney before losing to Covington Catholic.
Perry is also chasing the all-time scoring record in Kentucky of 4,337 points set by King Kelly Coleman in 1956. Perry has 3,189 points with two years remaining. He's a gym rat but says recruiting has not been an issue with his basketball preparation.
"There is still plenty of time to get in the gym," he said. "A lot of coaches come and watch (him) and visit with dad (Lyon coach Ryan Perry) while practice is going on. You want to build relationships with coaches but even with the phone calls and visits there is still plenty of time to get in the gym and get my work done."