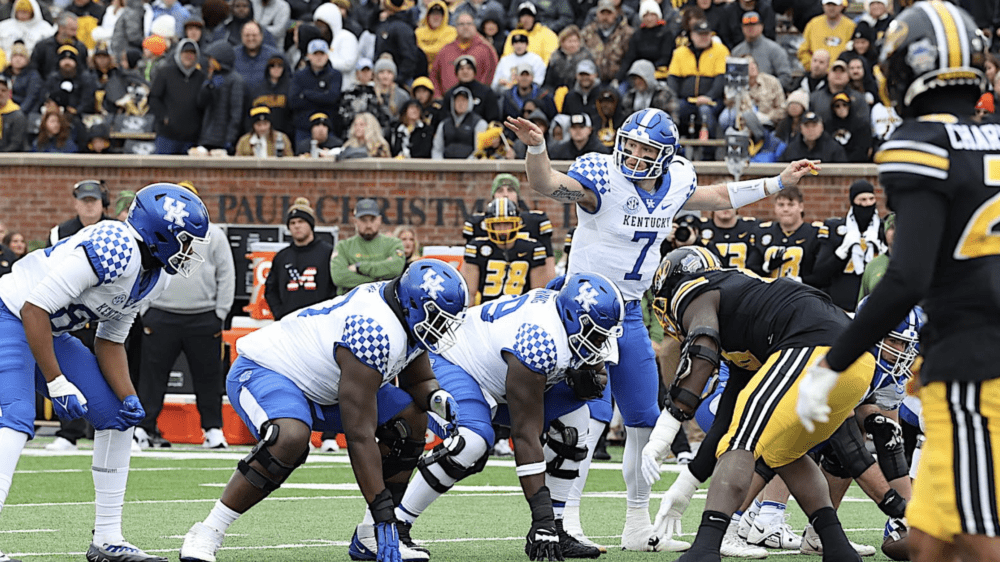 Kentucky has allowed 36 sacks in nine games this year. (Vicky Graff Photo)
Every week it seems like Kentucky coach Mark Stoops is always asked about three things — NIL, quarterback Will Levis' injury status and offensive line play.
The offensive line play is one thing Stoops seems like he should have a better chance to control than NIL or Levis' health. However, the offensive line continues to make plays consistently and continues to give up sacks at an alarming rate.
Kentucky has allowed 36 sacks in nine games after giving up just 34 sacks total in 24 games in the 2019 and 2020 seasons.
"It's always a team effort, a group effort. There were some things in there that could be improved. There were some mistakes, whether it be technique, or strain or finishing, just doing their job," Stoops said about the offensive line play at Missouri last week.
"There were a couple where they were doing their job and trying to do a little bit extra and it exposed us. There's time when the protection has been there but maybe Will doesn't trust it because he has been hit. There's plays and things that we could do better. We're all in it together."
Vanderbilt is a team that Kentucky figures to beat if it can be productive offensively, something it has not done often despite its 6-3 record. Once again, Stoops says the offensive line has to get better but he's been saying that for weeks.
"We need to be clean across the board. That comes from coaching, teaching and making sure we get the ball out of the right spot. Having the right play calls, when we are max protection, slide protection, do it, do your job, and trust that the person next to you is going to do theirs," Stoops said. "There's a lot of things that contribute to that."
Injuries have played havoc with any type of continuity in the offensive line with a different combination starting almost every game. However, Stoops is not using injuries as an excuse.
"We've got to continue to work at that and continue to get guys ready. Both Deondre (Buford) and Kiyaunta (Goodwin) were close to getting into the game Saturday (at Missouri) and try to continue to get them where they need to be," Stoops said.
Goodwin was UK's highest ranked recruit in the talented 2022 recruiting class but has yet to be a factor this season.
"We just felt like there would be a time when he would be ready to play. So, we want to continue to get him (ready). We were moments from putting him in there Saturday," Stoops said.
"You feel a guy like that is definitely going to be what you want him to be and if they are, they're not going to be here for five years anyway."