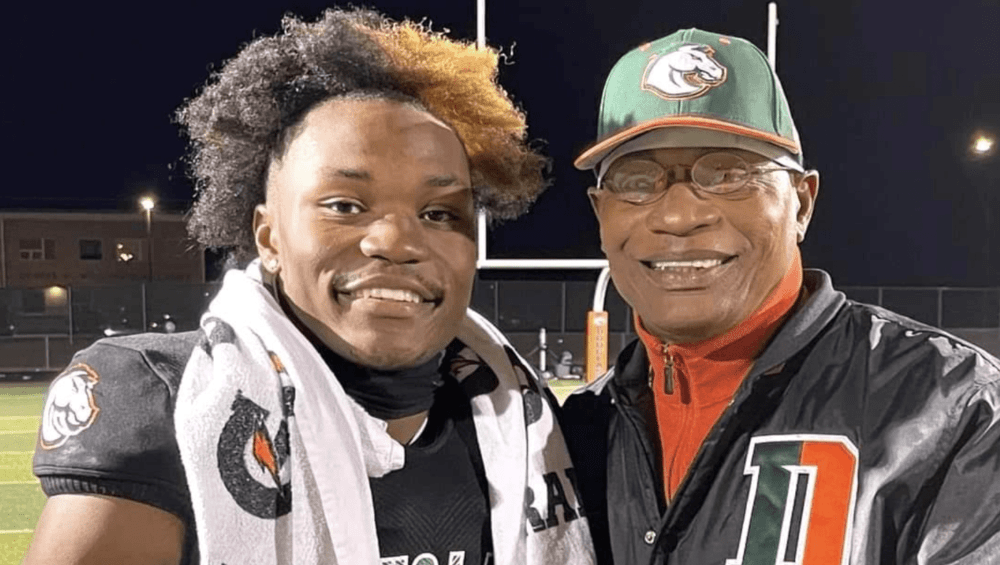 Ty Bryant with his father, Cisco. (Terri Bryant Photo)
Former University of Kentucky defensive back Cisco Bryant knows plenty about Paul Hornung, the former Heisman Trophy winner at Notre Dame and NFL Hall of Fame running back. Knowing his son, Frederick Douglass senior Ty Bryant, has won the 2022 Paul Hornung Award given by the Louisville Quarterback Club to the state's top high school player means a lot to him.
"That is an amazing award with that name on it. I know all about Paul Hornung. It's great to see my son even mentioned with a legend like that," said Cisco Bryant. "It's just overwhelming to be mentioned with a Hall of Fame legend."
Ty Bryant is a Kentucky football commit and three-star recruit. He plays safety and running back along with returning punts and holding for extra points. In last week's Class 5A playoff win over Woodford County, he had 106 yards — mainly in the second half — and scored the go-ahead touchdown.
"He's probably capable of playing both ways in college but more than anything he's just a guy who wants to win," Cisco said. "I remember he was at the UK camp and one coach wanted to know if he was a cornerback and another said no he's a safety. I always taught him to be versatile enough to play different positions because you never know who will be on your team and where you may need to play."
Ty Bryant is the all-time leader in tackles at Frederick Douglass with 268 even though he has only 15 this year because teams have seldom got runners/receivers into the secondary because of unbeaten Frederick Douglass' strong defense. He had 47 tackles in 2020 in the nine-game COVID season and 58 in 2021 when he also had 35 catches for 280 yards and 11 scores. Ty also had an interception return and fumble return for touchdowns in 2021.
"I don't worry about any individual numbers," Ty said. "Our defense has been great, so my numbers aren't as good but that's fine because we are winning and that's all that matters."
Unbeaten Douglass hosts Owensboro Friday in the state semifinals and Ty says winning a state championship was one of his preseason goals. He had some individual goals in mine that he keeps listed to motivate him and he knew former teammates Jager Burton and Dane Key had won the Paul Hornung Award in 2020 and 2021, respectively.
"You always think about winning awards like that. It motivates you to be your best and that is good for any player," Ty said. "I think I have had a very good season. I know we have had so many big wins that most games I didn't play but about a half but I never worried about individual numbers. Kentucky coaches know how our season went and why numbers don't show all I have done or my team has done."
Bryant has 41 carries for 352 yards — almost nine yards per carry — and 10 touchdowns and three punt returns for touchdowns (two more TD returns were nullified by penalties).
"This is the best blocking I have ever had on returns," Bryant, who also has an interception and forced fumble, said. "I usually have maybe one guy to make miss and then just a clear path to the end zone."
His father, a UK receiver from 1983-85 for coach Jerry Claiborne, calls it a "blessing" that he's had so much success on the field but also appreciates the way he supports his teammates.
"He turns into a cheerleader when somebody does something well. The other day I thought he hurt his ankle when he was jumping up and down after a teammate made a big play," Cisco said.
Frederick Douglass coach Nathan McPeek appreciates all the things Bryant does.
"He is one of the state's elite athletes, one of the very best. He's going to Kentucky for a reason," McPeek said. "We have been kind of splitting his time on offense and defense and Ty has been fine with that."
"He's really a good safety and that's what he is projected to be at Kentucky. But he also runs the ball really hard and he's very, very good in space. There's just not much he can't do."
That includes academically where Ty Bryant has 4.3 grade-point average.
He opted for a fifth year at Frederick Douglass because he only turned 18 years old a few days before this season started. He will enroll at Kentucky in January.
"This year has really helped me mature physically and mentally. Staying in high school another year was the right thing for me," he said.
* * *
The Paul Hornung Award was started in 1993 by the Louisville Quarterback Club with the support of Hornung, a Louisville native and member of the College Football Hall of Fame and Pro Football Hall of Fame.
Some past winners of the award are Shaun Alexander (1993), Tim Couch (1995), Dennis Johnson (1997), Michael Bush (2001/2002), Brian Brohm (2002/2003), Damien Harris (2014), Rondale Moore (2017), Jager Burton (2020) and Dane Key (2021).