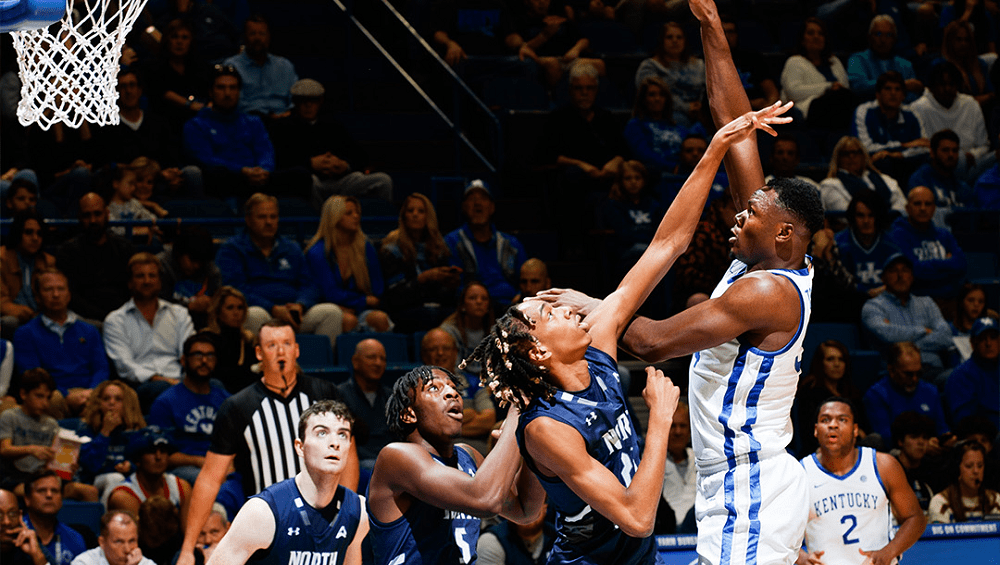 There was really nothing all that surprising about Kentucky's 96-56 victory over North Florida Wednesday.
Kentucky scheduled this as a Thanksgiving feast game and dominated all the way as it should have — and has tended to do against lesser foes while the Cats have lost to Michigan State and Gonzaga.
There were certainly some things to like a lot:
— Jacob Toppin had a career-best 20 points on 7-for-15 shooting. More impressive to me was that he went to the boards and got 10 rebounds and drew seven fouls that led to getting eight free throws in his 21 minutes of play.
"As the season goes on I am getting more confident," Toppin said. "I am not worried about scoring or rebounding. The offense will come. I still have ways to get better."
—Oscar Tshiebwe was Oscar. In just 22 minutes, he went 8-for-11 from the field and finished with 16 points and 15 rebounds (seven offensive). But what I liked most was that he had five assists, three steals and two blocks. Passing out of double teams to open teammates turns him into a triple threat.
"If we pass and move the ball and then make the shots, nobody can beat us," Tshiebwe said.
— Antonio Reeves got the start and responded with 20 points, including 18 in the first half. He was 7-for-12 from the field and 4-for-8 from 3. But he also pulled off six rebounds.
"I've seen a lot of good players. He's as good a 3-point shooter, and as good of a 3-point finder that there is in the country," North Florida coach Matthew Driscoll said. "If he doesn't have a 3, he's going to find the 3 with a step back or separation. A lot of guys, they get thrown off and then they can't get into the rhythm. And I think that's what makes Reeves special."
— With Lance Ware sick and not playing, freshman Ugonna Onyenso got to play 18 minutes and respond with 10 rebounds, seven points, three blocks and one steal. He did get beat at times on defense and he was 3-for-7 from close range but his energy and defensive presence matter.
"I thought Ugonna was good," Kentucky coach John Calipari said. "I should not have put him in the Gonzaga game when I did. I knew it was too high level a game for him and they went right at him three straight times. But he's going to be good."
— Freshman Cason Wallace was just 3-for-8 from the field and had only eight points but he dished out a team-high six assists and one steal. He didn't take plays off on defense because his offense was not as productive as it has been in some games.
— Kentucky also had 23 assists on 35 field goals and went 17-for-21 at the foul line, including 7-for-7 from freshman Chris Livingston.
Kentucky's unselfishness was obvious with the way Reeves played the second half. He had 18 points in the first half, including a 3-pointer just before the buzzer. He was on fire and I thought he might be on his way to a 30-point game. Instead, he took just two shots in the second half.
Reeves didn't try to force shots or get out of the offense. He just played the game and with other teammates scoring, he didn't worry. For the graduate transfer to show he was more about the team than me, sends a big message to teammates that he's all about winning.
"Antonio is a spark for us. He can really score the ball. When he gets it going it is good for everyone," Toppin said. "We feed off that energy. We are excited he can do that for us."
Yet he also had the maturity not to force anything in a blowout game where he likely could have scored 30 points. In the long run that's the kind of player who helps a team win and get better.