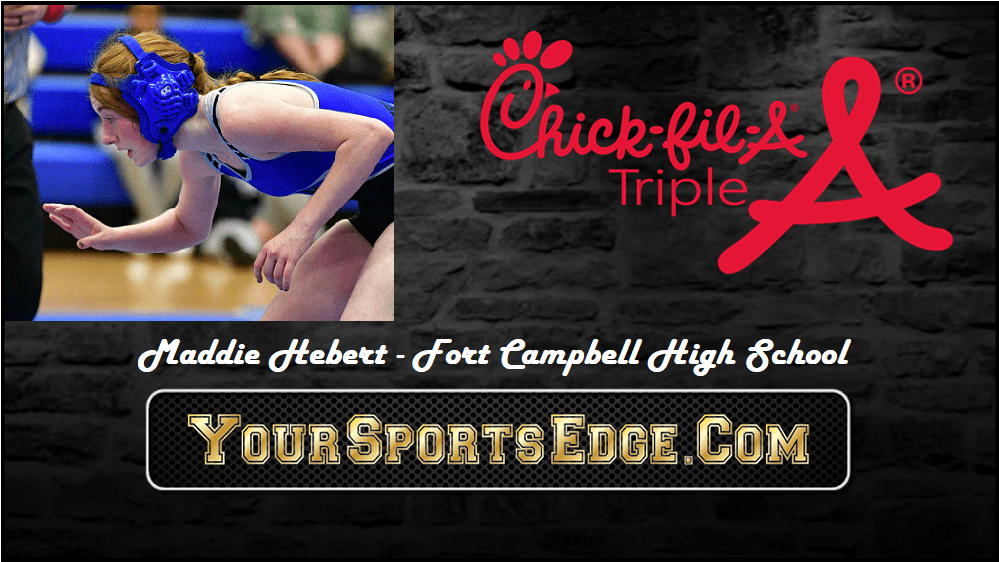 Maggie Hebert is well-traveled. She's well-spoken, she's a good athlete and she knows what career path she wants to take.
Not bad for a 16-year-old.
The Fort Campbell High School sophomore is the president of her class for the second straight year. She's also a team captain for the Lady Falcon wrestling team. Earlier this month, Hebert finished in fifth place at the Kentucky Girls' State Wrestling Tournament after a fourth-place finish as a freshman.
Hebert's involvement in martial arts is what spurred her interest in wrestling.
"It was like wrestling was the thing that I could do in high school that would count as a legitimate sport. And I really just fell in love with it because that's the type of sport I like," Hebert said. "The community that this team has and the coaching staff, they really encouraged me as a person to put my best version of myself forward, and I really love that. And I love the culture that we have here at the school."
Hebert said she expects to wrestle at the college level. But will she have time?
Hebert wants to study orthopedic surgery in college with aspirations of attending a top-ten medical school in the United States.
"I have pretty high hopes," she said. "Johns Hopkins and Harvard are some places I'm looking at. I'm also thinking about going overseas and studying in Europe."
Hebert has been in advanced classes in school since the third grade.
"In the sixth grade, I had the highest score on my SBA (Smarter Balanced Assessment) test and won the high score award every year in elementary school," she said.
Hebert had a 4.125 GPA as a freshman. After taking one AP class last year, she has three on her schedule this year. Two of them are science classes. She is prepping for the ACT and has already scored in the 98th percentile on her PSAT.
So how does Hebert balance a demanding academic schedule and an athletic schedule that includes wrestling and track and field?
"I think it's all about organization and how you spend your time. My time management is very important. You have to write down what you want throughout the day or it'll escape you," she said.
Hebert keeps a detailed planner where she tracks her meals, how much sleep she gets, and what's on her plate each day.
"You can't just mess around with school. Just show up to school every day, and you are learning throughout the whole day. I'm using my brain. I'm not relaxing at all. I'm doing my school work from the first bell to the last bell."
 At some point in high school, Hebert wants to participate in the Governor's Scholars program but she doesn't know where that will be.
She spent the first twelve years of her life in Washington state.  The family then moved to El Paso, Texas before coming to Fort Campbell.
However, her father is retiring from the military and so the family's next stop is uncertain right now.
"One of the biggest things (about being in a military family) is that it really prepares you for all of the change that you have to undergo through life. And I feel like it builds a really resilient spirit because packing your life up every two years and moving and having to make new friends and having to adjust to a new way of life, it's really hard on you," she said. "But I think it does prepare you for a lot of the challenges that you're going to face in life, and it builds up a lot of resilience and just a toughness of character that I feel like a lot of people need going into adulthood."
Hebert has her track and field season this spring as Fort Campbell looks to repeat last year's state runner-up finish. Hebert will be competing in the pole vault. It's a sport that requires skill and balance – two things Hebert has already mastered at just 16 years old.