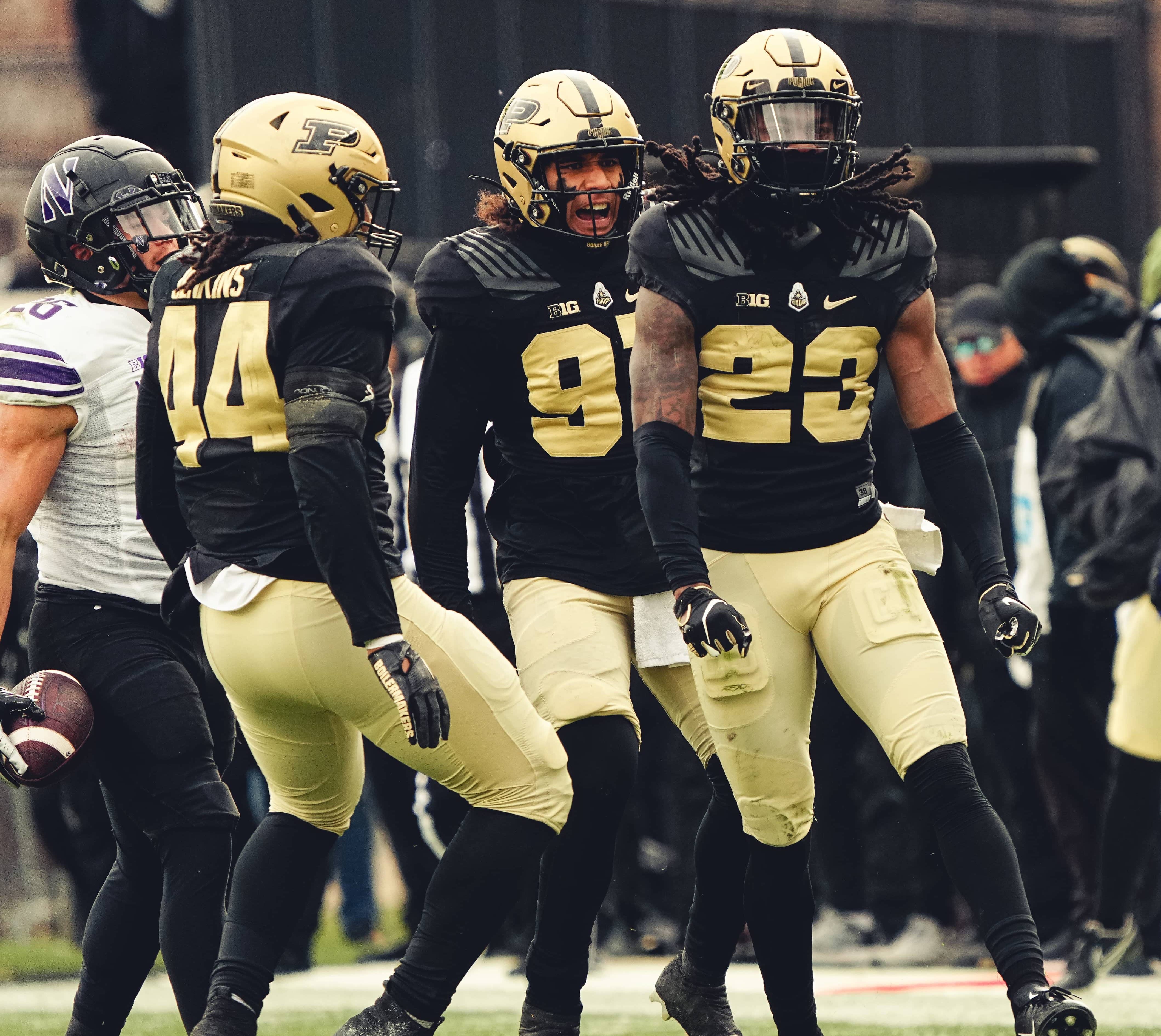 Cory Trice could very well hear his name called at the 2023 NFL Draft.
On March 9, Aaron Wilson of Houston NBC affiliate KPRC 2 reported the former Christian County and Purdue football star safety and cornerback privately met with brass from the Los Angeles Rams and the Detroit Lions. The meetings accent what were emphatic performances in last week's NFL Draft Combine at Lucas Oil Stadium in Indianapolis, as well as a recent strong Pro Day effort behind a 3.96 20-yard shuttle and 6.7-second three-cone drill.
After finishing 5-12 in 2022, the Rams have 12 draft picks this year, including No. 6 overall, No. 36 overall, No. 69 overall and No. 107 overall. Trice isn't generally regarded as a Top-100 pick at this moment, but the Rams also have No. 136 overall in the fourth round, as well as four fifth rounders, a sixth rounder and two seventh rounders.
Detroit, meanwhile, finished 9-8 and a surprising second in the NFC North — owning the 18th overall pick, the 48th overall pick, the 81st overall pick and 119th overall pick. The Lions also have single selections in the fifth, sixth and seventh rounds.
Kent Lee Platte, a "math junkie" and creator of Real Athletic Score, also works for Pro Football Network in analytics and applications development. Through his scoring system, which ranks combine data from scores 0-to-10, Trice ranked 23rd overall in the 2,009 cornerbacks that have been analyzed from 1987 until now.
Coming in at a 9.89 overall out of 10, Platte notes Trice compares to the likes of Patrick Surtain II (Alabama, 2021, 9.95), Ronald Bartell (Howard, 9.75, 2005), David Amerson (North Carolina State, 2013, 9.65), Cortez Allen (The Citadel, 9.58, 2011) and Eric Rowe (Utah, 9.92, 2015).
In career comparison:
— Surtain II was a Pro Bowler in 2022, his second season with Denver, behind two interceptions and 10 pass deflections.
— Bartell was drafted by the St. Louis Rams in the second round of the 2005 draft, playing seven seasons with 71 starts and 96 games. He'd finish his career with eight interceptions, 65 pass deflections and 353 total tackles.
— Amerson started 61 games and made 74 appearances, playing six years while amassing nine interceptions, 272 total tackles and 65 pass deflections.
— Allen started 18 games and made 56 appearances, all for the Pittsburgh Steelers. He'd finish his five-year stint in the league with six interceptions, 34 pass deflections and 168 total tackles.
— Rowe would make 56 starts in 100 games over eight years with Philadelphia, New England and Miami, and he'd tally five interceptions, 41 pass deflections and 381 total tackles.
Particularly, Trice's 6-3 height and 200-pound frame look NFL ready, and his combination of speed and strength are noticeable. While his 4.47-second 40-yard dash and 1.56-second 10-yard split were above average at the 2023 NFL Combine, his 17 bench reps were second highest for defensive backs — tied with Joey Porter Jr. of Penn State, and just one shy of Utah's Clark Phillips' 18. His 11-foot broad jump was also well above average.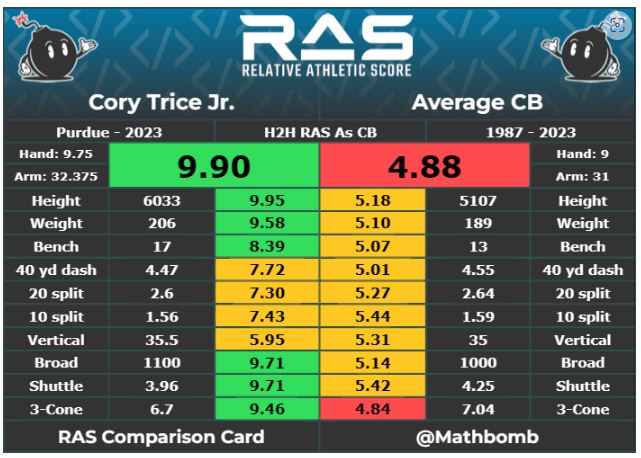 Lance Zierlein, NFL Analyst for NFL.com, writes that Trice has "legitimate strong safety size," but that he's "better suited for the cornerback position" at this level. That he's "physical in coverage," but "lacks the same temperament in run support."
He further noted that Trice's size and strength "help him impede" the early stage's of a wide receiver's route running, and that he can "smother possession throws underneath." He termed Trice a "decent athlete" that lacks "ideal fluidity and speed" to recover when beaten deep, but press and zone coverages would be a strong fit.
Despite limitations, Zierlein added that Trice has room for "technical growth to make him a better pro." As such, any team valuing size over speed will "covet him" as a middle-round pick with critical upside.
His scouted strengths include:
— A rare size and length at the corner position.
— Capability of creating wide rerouting of a receiver's release.
— Possessing size and strength to alter route timing.
— Slides feet to eliminate receiver leverage from off-man.
— Surprising twitch to plant and close from a slide shuffle.
— A size advantage to squeeze and delete catch space near a boundary.
— And the ability to jar and shed perimeter blocks.
His scouted weaknesses include:
— Playing too tall for "clingy route phasing."
— Below average long speed to recover when topped.
— Definitive hip declarations come way too soon from off-man.
— Clunky hips prevent fluid swivel from coverage recovery.
— His technique to phase and locate downfield throws needs work.
— And below average field aggression in run support must change with size.
Per Zierlein, an unnamed scout for an AFC team told NFL.com that Trice was "getting slept on," and though he "can't play in certain coverages, [Trice] is a monster in press."
NFL.com also graded Trice at 6.14, or as a "good backup with the potential to develop into a starter."
Further analysis from CBS Sports rated Trice a 74.58 out of 100 in the draft process (or, a "chance to start"), and gave him a professional comparison to former NFL DB Antrel Rolle.
At 6-0 and 206 pounds, Rolle played 11 seasons from 2005-2015 for the Arizona Cardinals, New York Giants and Chicago Bears. A three-time Pro Bowler and two-time Associated Press All-Pro Second Team, the former Miami Hurricane drafted eighth overall in 2005 collected 26 interceptions, 837 total tackles and 71 pass deflections in 146 starts.
That certainly would be an incredible ceiling for Trice, should it come to fruition.
CBS also noted Trice's NFL future might be at safety or as a "hybrid chess piece," and that sometimes he can get "too handsy" in coverage — which will result in flags.
At this point, though, Trice seems to be particularly well thought of at the next level.
This year's draft is set for April 27-29 at Union Station in Kansas City — near the World War I Museum and Memorial. It's the first time Kansas City is hosting the event, and fitting, following the Chiefs' run to the Super Bowl.