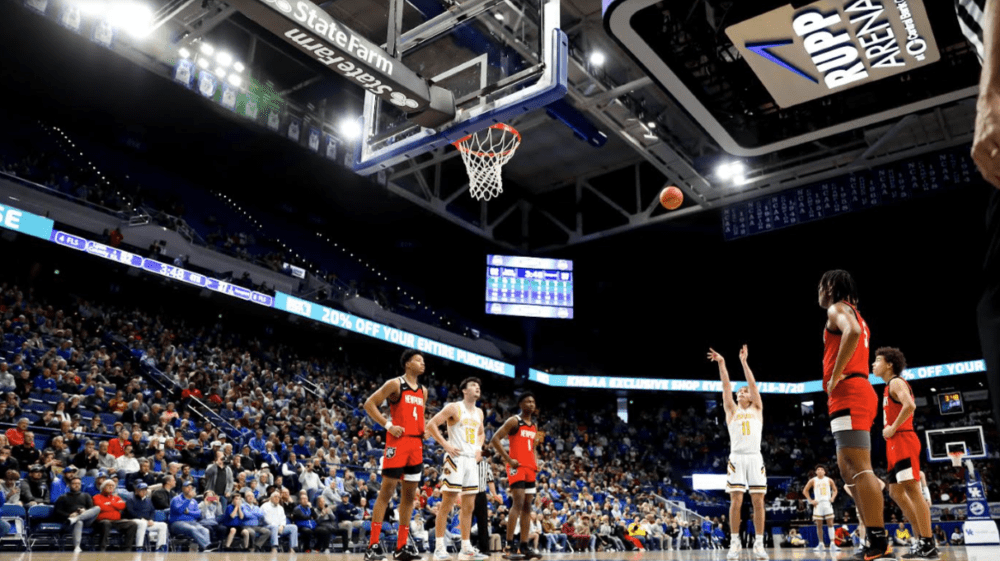 Travis Perry launches the record-breaking free throw Thursday that moved him ahead of King Kelly Coleman's scoring record. (Les Nicholson Photo)
Travis Perry didn't have to keep track of his pursuit of King Kelly Coleman's all-time high school scoring record.
Rupp Arena fans were doing that for him and when he went to the foul line with 3 minutes, 48 seconds left in Thursday's state tournament game against Newport he knew it was record-breaking time.
He already had 20 points to tie the 4,337 points Coleman scored from 1953-56 and had two foul shots.
"I looked around and everybody was standing," said Perry. "I thought, 'Man, don't miss the free throw.'"
He didn't and history was made. Teammate Jack Reddick was the first to congratulate him and Lyon coach Ryan Perry, Travis' father, called timeout so other teammates and coaches could do the same thing.
Perry finished the game with 23 points — well below his scoring average — on 8-for-19 shooting overall and 4-for-9 from 3. He also had six rebounds, two assists and one steal in the 61-46 victory over Newport.
He now has 4,440 points going into Friday's state quarterfinal game — and is only a junior.
"It was never about the scoring record," Perry said. "Scoring points is fun. Winning is more fun. I am proud of the way we fought and stepped up on the big stage."
The Lyon guard, who has numerous scholarship offers including one from Kentucky, admitted it was a bit of a relief to have broken the record even though he's spent very little time talking about it.
"It is something that has been really fun and I am thankful for and humbled by," Perry said. "Not everybody has that opportunity. But it's still the same message. It is about winning. The more games you win, the more points everybody gets to score."
Perry pointed out what Coleman did at Wayland High School with no 3-point shot was amazing and the record had seemed untouchable for 67 yards until Perry got it Thursday.
Teammate Brady Shoulders had a double-double in the historic win with 12 points and 13 rebounds along with five assists and two steals. He said it was a "joy" even practicing with Perry.
"The scoring record is a big thing but he never talks about it," Shoulders said. "He is just playing for the team. A win is a win like he said."
Ryan Perry noted that Coleman played in a "different time" but he is a well-known legend.
"For Travis' name to be in the same sentence with him is just humbling," the Lyon coach said. "To be in that conversation with him is enough. It's something we will all hold forever. It is a big deal."
Ryan Perry said in recent weeks they had received correspondence from folks at Wayland and had to tried to "educate ourselves" more on him.
Ryan Perry has coached his son and juniors Reddick and Shoulders since they were in second grade. He said it would have been a "big deal" if any of his players had set a new state scoring record.
"But for it to be Travis and he's your own son, that's special. The way he handles it … it's not just a front. It's just the way he is," the Lyon coach said. "He will say, 'If I score 2, 22 or 52 it doesn't matter. We have to score one more point (than the other team) because I have to ride home with the coach.' He wants one more point so he doesn't have to listen to me.
"I am really proud of him."
He should be just like every other Kentuckian should be. Lyon County's success is the Cinderella story that makes the state tourney so special. This is the second straight year the Class A team has won a game at the state. Not bad for a team that had not played in the state tournament since 1951 until last year — a span of 71 years.
Now to have the star player — the coach's son — set the all-time scoring record in a state tourney win is the kind of thing you normally can only dream about.
Perry would have liked to have broken the record on an earlier 3-point shot that went in and out and not a foul shot.
"But I am just fine with how it happened," he said. "It's only going to happen once for me."
Travis Perry Breaks Record
Photos by Les Nicholson