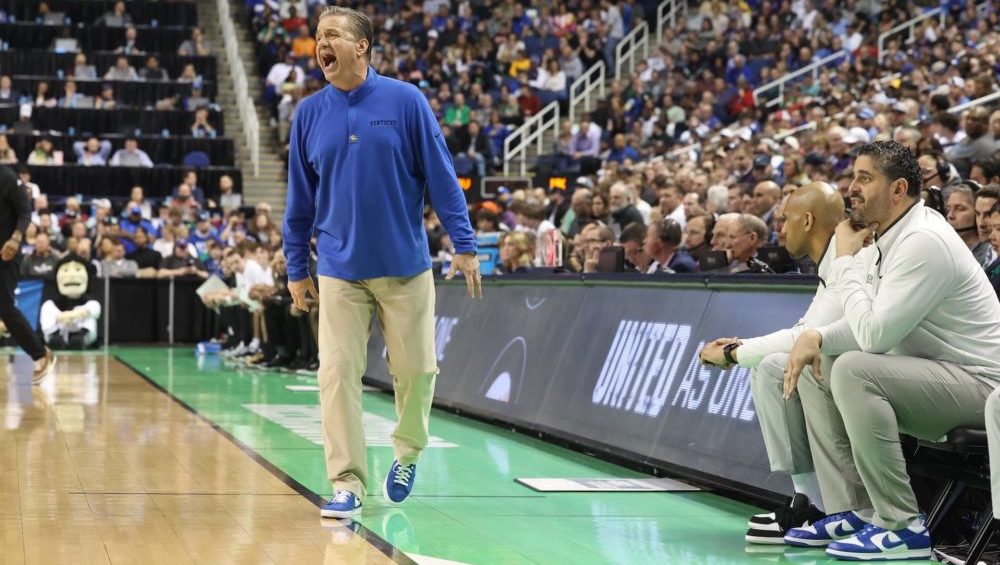 Vicky Graff Photo
Kentucky normally does not get to play in Greensboro, N.C. — or any other city in North Carolina that hosts NCAA Tournament first-round games — because either Duke or North Carolina gets priority there. Or at least that's the way it seems.
However, with North Carolina not in the tourney this year and Duke not a typically high seed, the Wildcats got a chance to play in Greensboro Friday and beat Providence 61-53.
The Kentucky fans certainly gave the Cats a nice buzz and UK coach John Calipari thought there might have even been some other different fans cheering for the Cats.
"Those were Carolina and Duke fans too. That's what was amazing about it," the UK coach said after the win. "No, our fans travel. We've got great fans. Now, they're engaged and, you know, they live and die with wins and losses.
"You have some of them that are out there a little bit, but we've got the greatest fans. They travel. They're excited. I've got a stack of letters this year like this when we struggled to hang in, and some of them were unbelievable.
"This group will go crazy, and there's this group coming over and sending you letters. "Stay the course. You're doing this the right way. You have these kids. Stay the course. You keep your faith." So, no, our fans, they travel. Like, I would have been surprised if we didn't have this kind of crowd."
One special fan behind the bench was Calipari's 90-year-old father.
"It was even better having him in the locker room after. I said my dad, Vince, and CJ (Fredrick) was calling him Vinnie. My dad is 90, had his knee operated on, and that's the first game he had seen in nine years," the Kentucky coach said.
"With COVID, and all the other stuff, he hadn't been able to go to games. The tournament was canceled the year before, and then COVID.
"He is 90, and I hope — well, he has no wrinkles on his face. We sat there and looked at him. You don't have a wrinkle on your face. You're 90 years old. What the heck? He just wants to be told he is handsome. He said, 'I don't need to hear that stuff. Just tell me I'm handsome.'"