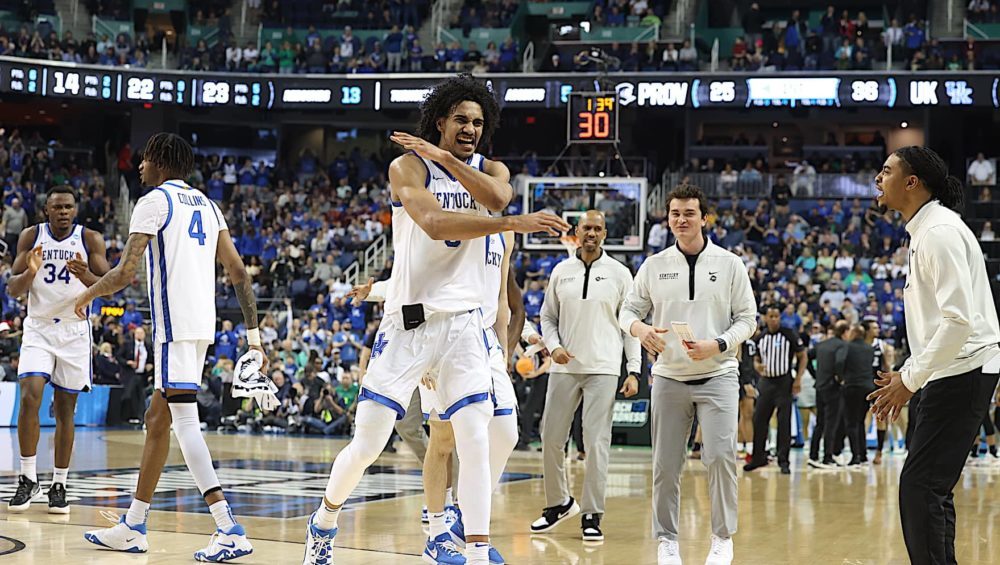 Vicky Graff Photo
John Calipari knows shooting 25 percent from the field in the second half like Kentucky did Friday night in the 61-53 NCAA Tournament win over Providence likely would be fatal in  most postseason games. He said it was "crazy" his team could do that and still win but the bottom line is that UK did win.
"You winning this tournament, it doesn't matter how you win. There are teams that have gotten knocked out. You just keep playing and have joy and enjoy," Calipari said. "We're not, like, 'Well, we're going to win because everybody will be mad if we don't.' What? No. We could care less if they're mad or happy or sad. This is about this group of young people.
"I want them to enjoy this experience. No one is going to put added things on their shoulders. I won't let them. Like I told them, have a ball today, and they did. Now, I just told them, I knew we missed eight straight shots. Like, just make one or two."
However, Purdue, a No. 1 seed, didn't win. It lost to No. 16 seed Fairleigh Dickinson and the end of that game highlights were being shown in the arena as UK was closing out its victory.
"I've been telling these guys. You don't watch the games. If you think you're going to be playing somebody, they're going to get knocked off. That's how this works. We can write our own story. We didn't know that. Did you guys know that (to players on the postgame podium with him)? None of us knew that," Calipari said.
"We're not watching games. We're focused on us and enjoying this moment. Thank you for letting us know, though, they got beat. I didn't know. I feel bad. (Purdue coach) Matt Painter is a terrific guy, and I know what you go through with that kind of stuff."
That's because UK lost to No. 15 seed Saint Peter's in 2022 and it has haunted UK for a year.
"In this tournament, are you ready, I said it. Anything can happen. It's one game. If they played them seven times, what? But that's not what this tournament is," Calipari said.
"So people will go crazy when this team was a low seed and a high seed beat them. It can happen. We shot 25 percent in the second half. Could have happened to us."