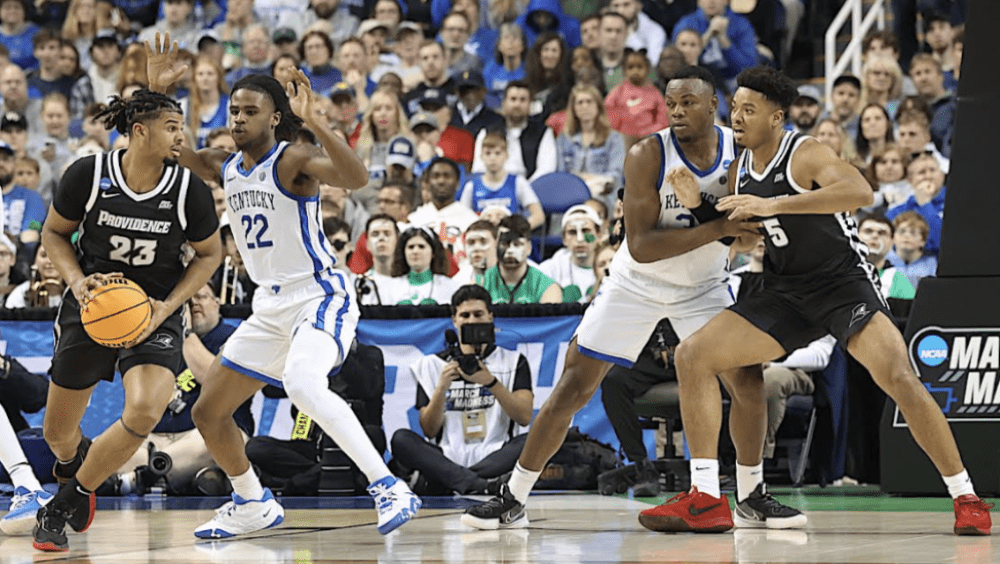 Kansas State's Nae'Qwan Tomlin doesn't think matching up with UK "will be much of a challenge" other than Oscar Tshiebwe. (Vicky Graff Photo)
Kansas State players had a lot to say pertaining to Kentucky during Saturday's press conferences in Greensboro, N.C., before today's game.
Here are a few things I thought you might enjoy:
Q. Coach Calipari talked about the challenge you guys present as a matchup because you have a lot of kind of positionless players, but he said on the flip side you guys have to adjust to their style too. Do you see this as kind of a game of contrasting styles? Who do you like as far as the style?
KEYONTAE JOHNSON: I mean, I feel like if we just focus on ourselves, we'll be fine. I mean, we are still watching film, still learning them, but I feel like we have — like he said, we're in the toughest conference, so we faced different styles of play and how different teams play. We played an SEC team before, so, I mean, I don't think it will be anything hard that we can't contain really.
NAE'QWAN TOMLIN: Yeah, like what Keyontae said, I don't think it will be something that will be much of a challenge besides Oscar, but, you know…
MARKQUIS NOWELL: We play in the toughest league, like I said, in the country. We play in the Big 12. From top to bottom, you know it's a tough night. I like my chances with my guys because we are gritty, we are tough, we are hard-nosed. We have a great coaching staff from top to bottom, and I know that they'll do a good job of game planning versus Kentucky.
Q. For Markquis, I think everybody assumes 5'7″ is a disadvantage. I'm curious, what do you think are the advantages of being a smaller point guard that you can do against some of the bigger defenders?
MARKQUIS NOWELL: When I fall, I'm closer to the floor than everybody else, so (laughing) that's an advantage. Nah, but, I mean, my toughness and my heart just overpowers any height or any structure to anybody. I just play with that passion.
Q. Markquis, we've talked to you a lot this year. I can't remember too many times where you've made jokes in press settings. You've done it twice now today. Is there a reason why you are lighter, making jokes at this time of the year in the NCAA Tournament?
MARKQUIS NOWELL: I mean, life is fun. It's a blessing to be here. I'm just happy and grateful that I get to be here playing in March Madness. So just having fun. And that's a part of my personality too, so…
 
Q. If this is off base, just ignore it. I'm wondering, did you follow Tyler Ulis, who was UK's 5'8″ point guard about five years ago?
MARKQUIS NOWELL: Dang, you did your research. It was about five years ago. Tyler Ulis, before I even knew he was playing at Kentucky, I studied him. I watched him in his college days on what gained him success.
So just his defense and just his play-making ability I watched and studied over the course of the years and tried to implement that into my game.
It's just so crazy to see that he is now on the sideline, a GA at Kentucky, and it feels like a full-circle moment because just a few years ago I was asking him tips on what I could do to become a better player, and he helped me. He is much like a big brother to me.
Q. The Kentucky players said that they weren't watching any of these other March Madness games. Have you guys been tuned in, and any of those games stand out to you?
KEYONTAE JOHNSON: Yeah. I mean, we've been watching it. We just try to use some of the game as motivation. We seen Purdue, UVA is coming in, and taking every possession or they lose one possession. We're just trying to learn from it and just — we didn't want to be that example as well, so we just trying to go out there and have fun really.
NAE'QWAN TOMLIN: We definitely use those games as motivation. We seen, like, lower seed teams come in and play, like, very hard and upset some teams. Like Keyontae said, we didn't want that to happen to us, so we tried to remove, like, the seeding from our names or whatnot and just play as hard as we could.
MARKQUIS NOWELL: It's March. I mean, it's the best time of college basketball, so it's hard not to watch games nowadays.
But I just watch basketball. I'm in love with basketball. So whenever I get a chance to wind down and turn on the TV, you know, I watch some games here and there.