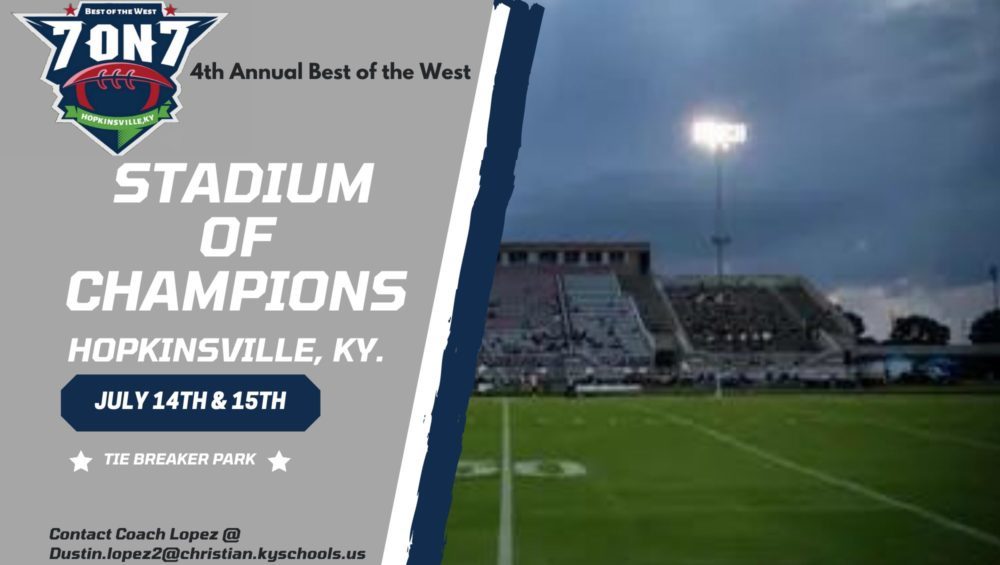 Two more teams have been announced for this year's 'Best of Western Kentucky' 7-on-7 event in Hopkinsville. Officials announced Friday morning that Logan County and Paducah Tilghman are the latest additions to the field for the annual passing tournament.
The Logan County Cougars finished the 2022 season at 11-2, falling to Louisville Central in the third round of the Class 4A state playoffs.
The Cougars are set to return starting quarterback Davin Yates, who passed for 1958 yards and 21 touchdowns last season.
Yates' top returning targets include JunVontre Dilliard, who caught 40 passes for 448 yards and five scores. Jack Delaney had 18 receptions for 249 yards and three touchdowns. Harper Butler added 14 catches for 239 yards and five TD's.
Paducah Tilghman finished the 2022 season with a record of 6-7. The Blue Tornado fell in the third round of the Class 3A playoffs to Christian Academy of Louisville.
Quarterback Jack James is slated to be back for his junior season for Tilghman in 2023. James passed for 2185 yards and 23 touchdowns in 2022.
Shemari Thomas and Banks Lafont are the returning receivers for Paducah Tilghman. Thomas caught 30 passes for 310 yards and a touchdown last season, while Lafont had 18 receptions for 304 yards and a score.
Logan County and Paducah Tilghman join South Warren, West Creek, Daviess County, Macon County, Pearl Cohn, Gibson Southern, Kirkwood, and Kenwood in this summer's event.
The 2023 Best of the West is set for July 14 and 15 at the Stadium of Champions and Tiebreaker Park.