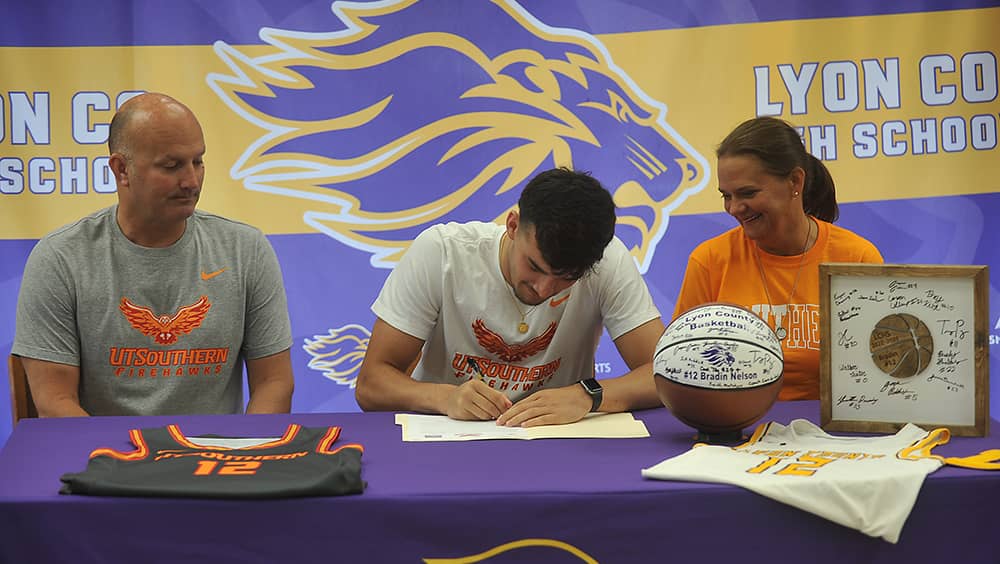 It's official. Lyon County's Bradin Nelson will be a Firehawk.
The Lyon senior officially signed to play college basketball with the University of Tennessee Southern in a ceremony Tuesday afternoon in the media center at Lyon County High School.
Tennessee Southern was formerly Martin Methodist College. Founded in 1870, it was a private institution for over 150 years until joining the University of Tennessee system in 2021.
UT-Southern is an NAIA school located in Pulaski, Tennessee. The Firehawks compete in the Mid-South Conference.
Tennessee Southern went 17-11 in men's basketball last season. The Firehawks fell to Lindsey Wilson 84-82 in the first round of the conference tournament.
Dugan Lyne has been head coach of the Firehawks for the last five seasons. He has spent 10 seasons overall with the University of Tennessee Southern men's basketball program.
Meanwhile, Nelson played in the KHSAA Sweet 16 with Lyon County this past season. He was forced to sit out much of the 2022-23 season after transferring from Webster County, but became eligible during the postseason. He got on the court in the 5th District championship game and played through the regional and state tournaments.
Nelson saw action in just six games for the Lyons. He averaged 5.5 points and 5.0 rebounds a contest.
Bradin Nelson ceremony