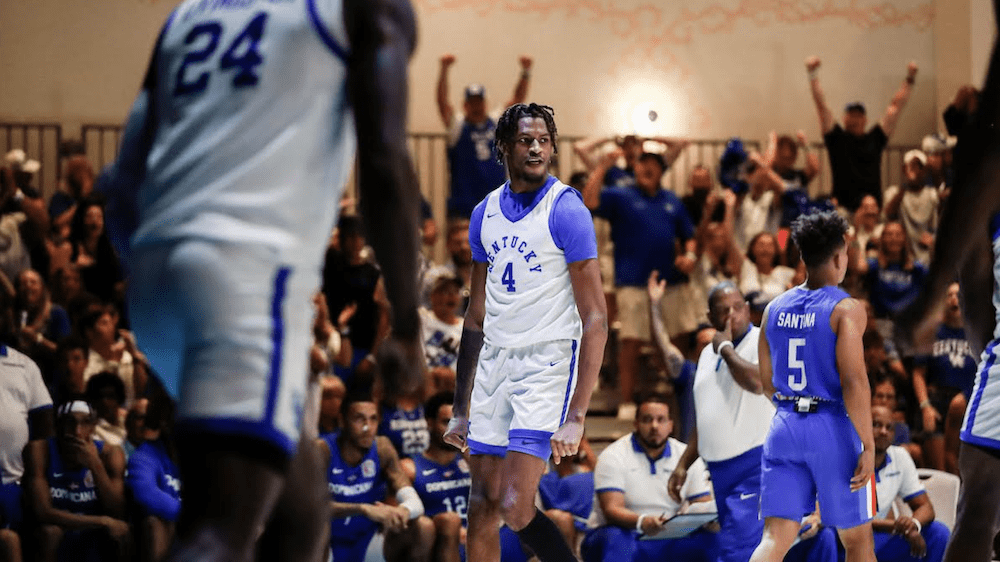 Vicky Graff Photo
Daimion Collins is not playing for Kentucky next season but he will be playing in the Southeastern Conference and could face the Wildcats.
The former Texas Prep Player of the Year and McDonald's All-American announced on Twitter Thursday that he transferred to LSU.
LSU went 14-19 under first-year coach Matt McMahon last year but is rebuilding with the transfer portal
"Daimion Collins had a year I wouldn't wish on anyone and has been through more than any player should, including losing his grandfather in the last week," Kentucky coach John Calipari said after the season ended. "He's a talented player and good person with a bright future. Daimion Collins and his family know that I'll always be here for him."
Collins was ranked as high as No. 4 in his recruiting class by one recruiting service after averaging 33.2 points, 14.4 rebounds, 7.0 assists and 6.2 blocks per game his senior season. He picked UK over LSU, Oklahoma, Texas, Texas Tech, Kansas, Houston and Baylor.
He started just two of the 52 games he played and averaged 2.4 points and 2.1 rebounds per game. He averaged only 7.9 minutes per game last season and his season high was seven points against Arkansas.
Collins looked great in UK's preseason exhibition trip to the Bahamas but his father unexpectedly died before the season started while on a visit to Lexington.
Collins is the fifth transfer to join the LSU roster. Here is a look at the others:
— Jordan Wright, a Louisiana native, played the last four years at Vanderbilt and averaged 10.6 points and 5.1 rebounds per game last season and was second on the team in assists with 71. He also led the team with 39 steals. He had 20 double figure scoring games and amassed  over 1,000 career points.
— Carlos Stewart,  a 6-1 guard,  played the last two seasons at Santa Clara University. He was a first-team All-West Coast Conference pick last season after averaging 15.2 points, 2.4 rebounds and 2.3 assists per game.
— Seven-footer Will Baker played the last two years at the University of Nevada after one season at Texas.  Baker averaged 13.6 points and 5.2 rebounds per game last season and shot 56.0 percent from the field. His overall field goal percentage was the eighth best in Nevada basketball history. He had 22 double figure games.
— Point guard Jalen Cook was a first-team All-American Athletic Conference selection the last two seasons with Tulane (he played for LSU as a freshman in the 2020-21 basketball season). Cook averaged 19.9 points and 4.9 assists during the 2022-23 season, ranking second in the AAC in scoring and fourth in the league in assists. He had eight straight consecutive games with 20 or more points. He made 57 3-pointers. Cook averaged 18.0 points and 3.5 assists, also finishing second in the AAC in scoring and scoring in double figures in 22 games, his first season at Tulane.
— Hunter Dean, a 6-10 forward, was a two-year starter at George Washington who started his career at Southern Mississippi. He started 26 of 30 games last season and averaged 8.7 points and 6.1 rebounds per game, both career highs.