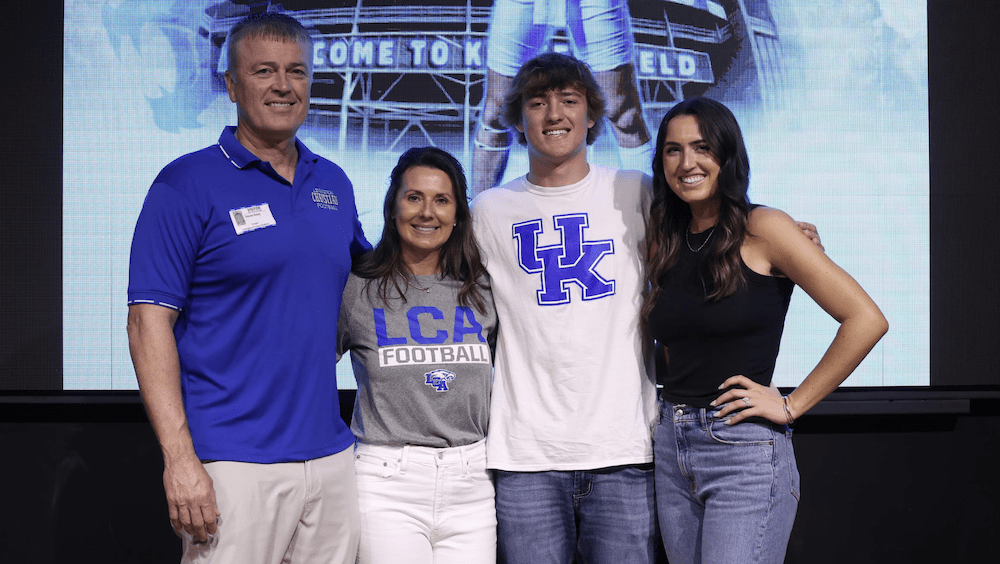 Scott Boley, left, with his family when his son Cutter committed to Kentucky. (Lisa Collins/LCA Photo)
Scott Boley was a college basketball player at Western Kentucky but he certainly understands how the transfer portal has changed college football, especially for quarterbacks.
"It's the hardest position because only one guy plays," said Boley.
His youngest son, Cutter Boley, is a junior quarterback at Lexington Christian Academy and a top 150 player nationally. He verbally committed to Kentucky last week.
Kentucky has had three successful transfer quarterbacks — Stephen Johnson, Terry Wilson and Will Levis — and hopes Devin Leary will be the fourth during the upcoming season.
So how does Scott Boley feel about his son playing at Kentucky knowing how the transfer portal has changed everything?
He told me that out of the top 50 ranked quarterbacks coming out of high school since 2015, 80 percent have transferred.
"That means most people are making the wrong decision out of high school ,which is frightening as a parent," Scott Boley said. "You don't want to go into college thinking you might need to transfer."
What about players transferring in?
"That can happen anywhere," Scott Boley said.
He remembers Elizabethtown High School basketball coach Tim Mudd telling his daughter, Erin Boley, the Kentucky Gatorade Player of the Year who played at Notre Dame and then Oregon, she had to "make me play you, don't give me an option."
Scott Boley said he told Cutter always not to give coaches an option about playing him.
"You never know how relationships might go. Joe Burrow might have been the best quarterback at Ohio State but the quarterback coach and OC (offensive coordinator) did not think he was," Scott Boley said. "He transferred to LSU, won a national title, won the Heisman Trophy and now is doing great in the NFL.
"You have got to be somewhere that even if you know you are the better quarterback, you have got to have an OC and coach who believes it too," Scott Boley said. "You have to compete and earn the job but it can be a hard dynamic to sort out when you are a quarterback. But Cutter knows all that. He's been to camps and competed with the best quarterbacks. He knows what lies ahead."