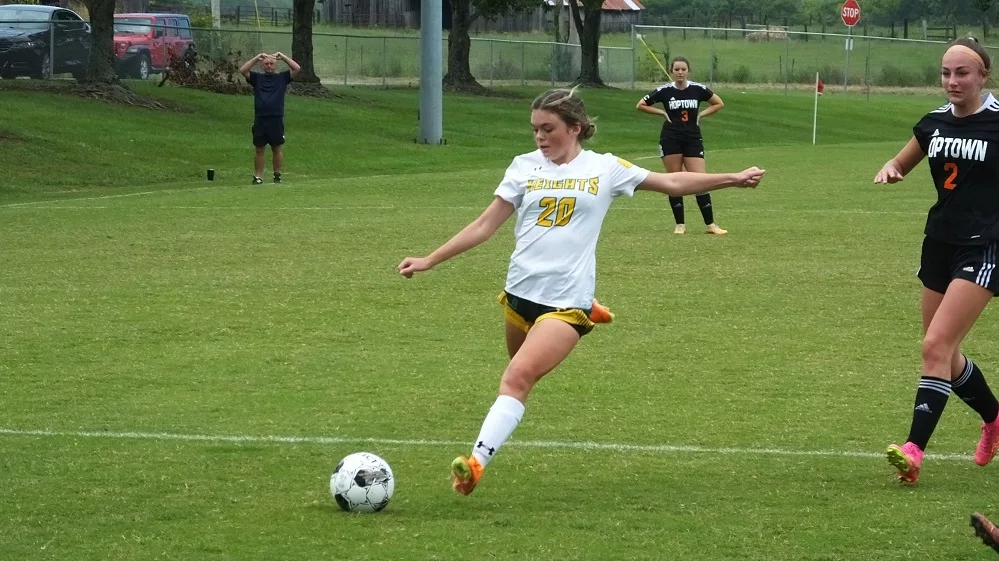 The University Heights Academy girls' soccer team capped a momentous week with a 7-0 victory over hosts Hopkinsville on Saturday.  On Wednesday, the Lady Blazers beat Murray High to advance to the All-A state tournament before routing Henderson County a day later for the program's first-ever win over the Lady Colonels.
The victory over Hopkinsville gave the Lady Blazers the top seed in the 8th-District tournament and saw them improve to 10-1 with a trip to Hopkins County Central coming up on Monday.
Audrey Perry got the Lady Blazers started after 12 minutes with a goal from the top of the box off a pass from Kendall Hancock.  Hancock then opened her account with help from Audrey Grise to make it 2-0 with 15 minutes left in the half.
Hancock completed her hat trick with goals just a minute and a half apart on assists from Perry and Audrey Grise for a 4-0 Lady Blazer lead at the break.
It was 5-0 inside the first four minutes of the second half when Perry found the back of the net with a shot from outside the 18-yard box.  Alyssa Grise assisted and then got a goal of her own before Hancock capped the scoring with a 25-yard screamer to the top corner.
Hancock finished with four goals and an assist, Perry added a brace with an assist, Alyssa Grise had a goal and set up another, and Audrey Grise chipped in two assists.  Madison Williams made one save in the UHA goal to earn the shutout.
Hopkinsville saw a four-game winning run come to an end to slip to 7-4 and will look to get back on track on Tuesday when the Lady Tigers host Hopkins County Central.