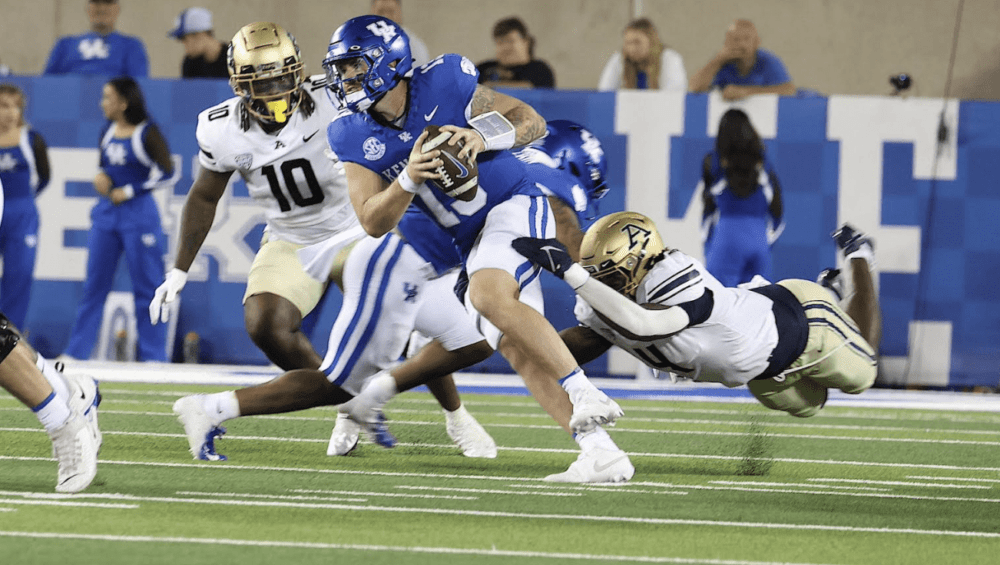 Vicky Graff Photo
Kentucky fans got a scare in the fourth quarter of Saturday's 35-3 win over Akron when quarterback Devin Leary took a big shot after throwing a pass and went down. He left the game and did not return but apparently only had the "wind" knocked out of him.
Leary blamed himself for what happened.
"Kind of exposed myself a little bit too much," Leary said.
He completed 16 of his 26 pass attempts for 315 yards and three touchdowns with  one interception. It was the ninth 300-yard game of his career and he became the first UK quarterback with at least three touchdown passes in consecutive games since Mike Hartline in 2010.
Kentucky's offense was productive enough against Akron but not nearly efficient enough to survive in Southeastern Conference play with penalties, bad snaps, dropped passes, bad throws and inconsistent blocking at times.
"We just shoot ourselves in the foot a lot, whether it's, you know, penalties missed, assignment, execution. We walk away from the game, obviously we're very thankful and happy to be 3-0. But at the same time, there's so much more we can do, especially as an offense, and we pride ourselves on that," Leary said.
"So definitely a little bit of a bitter taste in our mouth walking away, because we left so many different plays out there — but there's so much room for improvement for this team."
Leary said fixing mistakes is not a complicated process. It's just paying better attention to details.
"Making sure we understand our assignment — and really just not doing too much. Just at the end of the day — doing your job, doing what your coached to do," he said.
But he's not pointing fingers. He's blaming himself, not others.
"It really starts with me. I think I need to do a lot better operating this offense, and just at the end of the day — making sure that we practice right. Making sure that we're practicing every single rep every single day, like it's a game," Leary said.
"So we're definitely going to learn from this film, walk away, and be a better team because of it."
Leary did have one sensational play when he avoided a huge rush and somehow dumped a short pass to running back Ray Davis that he turned into a 56-yard scoring play — an ESPN SportsCenter Top 10 play.
"I didn't even see the play. So, after I ran my route, I was looking at the side, I thought it was sacked, and I look up and I see Ray cutting across the field, but that's just him being a playmaker," receiver Tayvion  Robinson said. "Making plays with his feet, extending plays and always looking to throw the ball, so Ray was ready, and he made a play."
Davis compared Leary to Houdini, a legendary illusionist/magician, because of his escapability.
"Devin has good pocket presence, he's a tough guy to bring down," Akron coach Joe Moorhead said. "I think there were three guys draped on him and he was able to check down and you know, the guy zig-zagged all the way across the field and we didn't tackle him. Credit to him for finding his guy and for the running back for making the play."