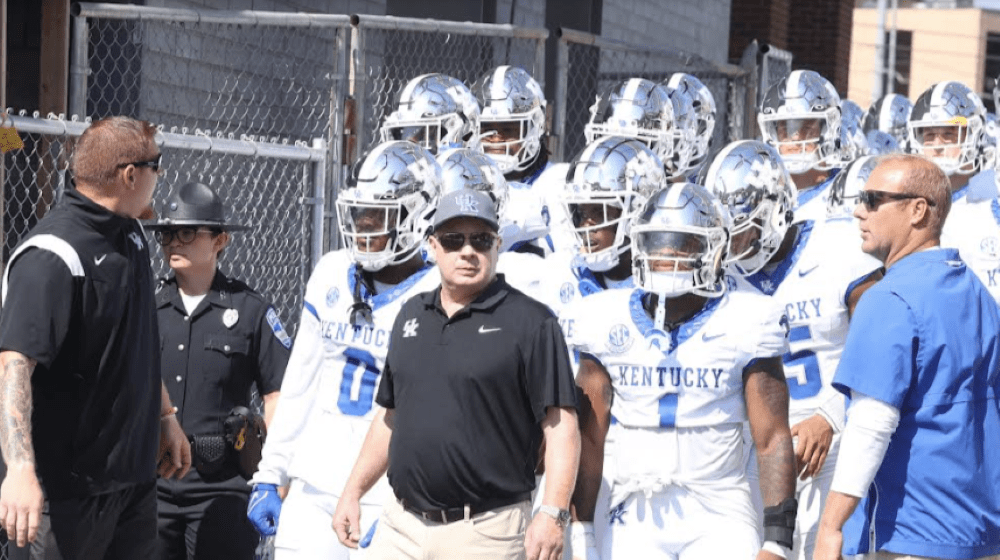 Vicky Graff Photo
Kentucky opened Southeastern Conference play for the third straight year with a 17-point win on the road at Vanderbilt.
The win propelled UK to a 4-0 start going into this Saturday's home game with Florida.
The Cats jumped out to a 24-0 lead in the first half and got 21 points in a well executed first quarter.
However, even UK coach Mark Stoops could not help but show his frustration again after the game because of a bevy of mistakes and missed opportunities.
The Cats were penalized 10 times for 105 yards. Kentucky moved Eli Cox from guard to center for the first time this season and there were no bad snaps but several times quarterback Devin Leary miss handled the snap and once he even tripped over Cox. Leary also either had more missed communication issues with receivers and/or just missed throws (he had two interceptions).
"We know there are a lot of things to work on. I don't ever put my head in the sand," Kentucky coach Mark Stoops said. "We are 4-0 and I have been unhappy every day for a month.
"We know we were out of sync on offense a lot. There are a lot of things to clean up. But to start 4-0 and win by 17 points on the road, there are still a lot of good things to build on."
Kentucky got off to a great start with 21 points in the first quarter thanks in part to Hairston's Pick 6 but the Cats also had 148 yards of total offense. However, in quarters two and three UK had just 77 yards of total offense. The team either lost its focus or just quit executing — or some combination of the two.
"We started the game really good. Obviously we were not functioning very well there after that whether it was protection, the quarterback struggling, being sloppy with the ball. The offense has to find some balance," Stoops said.
"The run game is non-existent and we are struggling in the pass game. We have got to get them (opponents) blocked."
Kentucky did run for 160 yards on 31 tries — an average of 5.2 yards per carry. However, 96 yards came on three runs — 38 yards by Ray Davis, 36 yards by JuTahn McClain and 22 by Leary. The other 28 runs resulted in 64 yards — or just over two yards per carry.
Perhaps SEC Network analyst Matt Stinchcomb put it best after watching the UK win.
"It wasn't always pretty. In fact, it was rarely pretty," Stinchcomb said. "Coach Stoops came into the game seeking consistency and I don't know that it was accomplished but they did win the opener on the road.
"We had questions about Kentucky coming into this game and they did not get answered."
No they did not considering that UK's next four games are Florida, Georgia, Missouri and Tennessee. If the Cats go 3-1 in those four, a special season is possible. If they go 2-2, that still set ups a really good season.
However, today it's hard to know what to expect. UK will not be favored against Georgia. It is a small favorite over Florida and the other two games likely will be considered toss-ups depending on what happens against Florida.