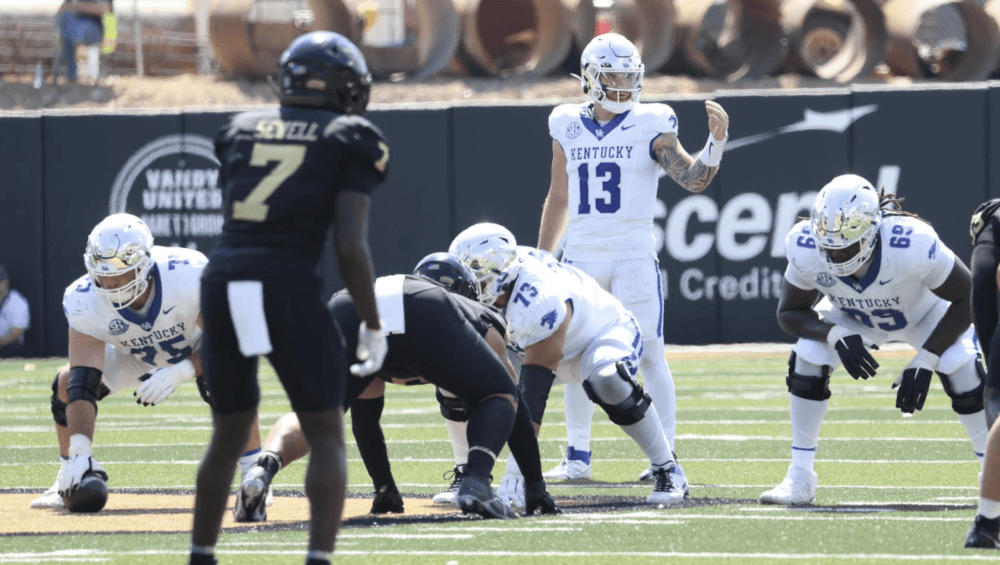 Eli Cox, left, moved back to the starting center spot at Vanderbilt. (Vicky Graff Photo)
Kentucky coach Mark Stoops made it clear he was upset with two bad snaps first-year center Jager Burton had in Kentucky's win over Akron.
The coach said he might consider making a change but never confirmed he would do that against Vanderbilt. However, in pregame workouts Saturday it was Eli Cox, last year's starting center who moved back to guard this year, and Tanner Bowles making the snaps.
Cox did start at center and did not have a bad snap in the 45-28 win while Burton went back to guard, the position where he was a starter in 2022.
So does this mean Cox will remain at center when UK hosts Florida Saturday?
"We'll see. I do think we felt better about it as we worked through it last week at practice. A little bit more decisive and the continuity of it — he's done it," Stoops said after the game.
"We'll see how Jager played at guard and we'll have that flexibility. It's hard for me to say. You saw it and I saw it.
"Just inconsistent in the run game. This is probably the worst we've been in yards per attempt."