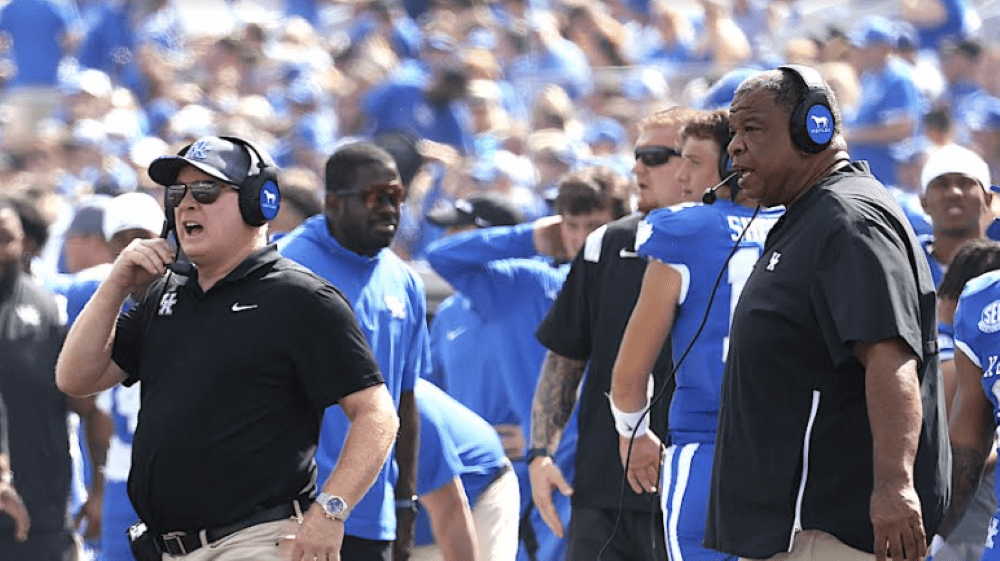 Vicky Graff Photo
Kentucky has now played five games. Kentucky has won five games. Kentucky defeated Florida handily Saturday. Yet, the question still looms, who is this Kentucky team?
The biggest takeaway from the win over the Gators is Ray Davis is a stud. He shredded the Gators to become number three on the rushing yards in a game for any player in Kentucky football history.
As he stated earlier in an interview, "I am not Benny Snell, or Chris Rodriquez. I am Ray Davis." He is a perfect combination of the two. He has the patience to wait those few milliseconds for the opening and has the flash of leaving all those chasing him in his dust.
The Big Blue Wall is improving every game. It would be impossible for Davis to have reached his achievement today without the blocking of the line. They made the holes, he made the plays. It seems Eli Cox will be the anchor at center for the rest of the season. Coach Mark Stoops challenged the offensive line and it responded.
Brad White is the one if not the best defensive coordinators in college football. Florida players spent most of the game dodging defensive players either in their face or wrapped around their legs.
Coming into the season our strength was said to be our receivers. Quarterback Devin Leary was supposedly compared to Tim Couch and there were no worries. Yet, here we are. We are past the time frame to "give him time to settle in and learn the offense." Five weeks in, we are what we are in the passing game. Leary had a total of 71 yards passing Saturday. I will repeat, 71 yards of passing. That should not be acceptable with the returning receivers and the accolades surrounding the transfer portal quarterback.
There is sometimes a sophomore slump for players who excel their freshman year. However, it seems improbable that all the second-year receivers have regressed at the same time. There are dropped balls, balls over their heads, routes being run wrong and no connection with their quarterback. So is this a receiver issue totally or a quarterback problem?
Florida quarterback Graham Mertz had something to prove today. Kentucky chose Devin Leary over him and that chip was shining bright on his shoulder today. Was he outstanding? No, however in the battle of the two Mertz has to get the nod.
The Cats travel to Georgia next. After watching the Georgia versus Auburn game, Georgia can be beat.
Maybe Leary needed this fifth game to figure it out. If not, it could be a long night in Georgia Saturday.