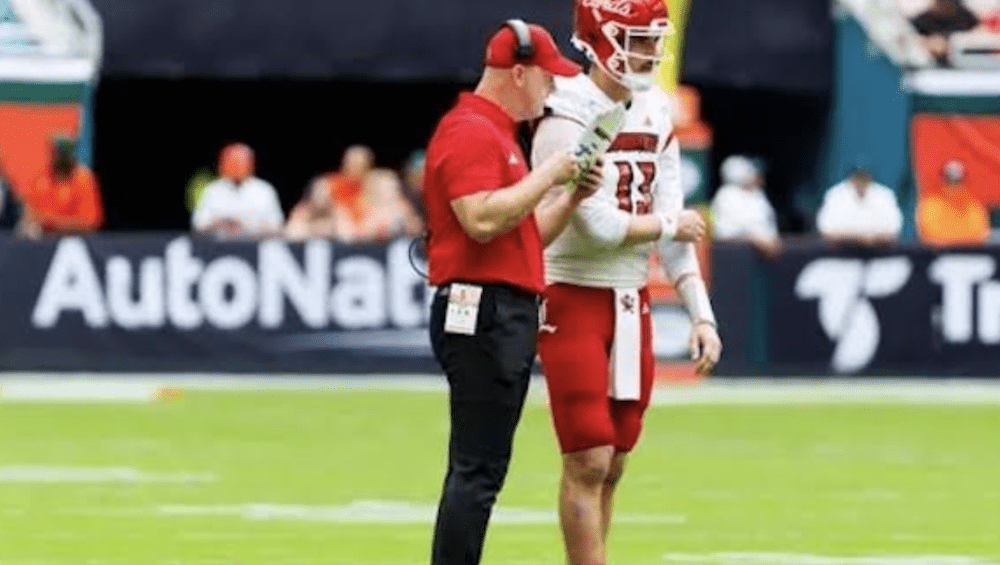 Louisville Athletics Photo
Louisville native Jeff Brohm has Louisville football on a roll with a 10-1 mark going into  Saturday afternoon's game against rival Kentucky in Louisville.
The Cardinals have already qualified for the ACC championship game against Florida State and currently are in the top 10 of the college football playoff standings.
He talked about playing Kentucky and the significance of the rivalry during his press conference Monday.
On watching past games in the series and what determined Kentucky's recent success …
Brohm: "I haven't studied all of the past four years of games so to speak, but I've watched it as a fan. I think Kentucky's done a really good job of building the program. They've been able to recruit good talent. They've been able to coach well. They've always been really solid on defense. I have a great deal of respect for what they've been able to do on defense consistently. This past year, they went back to their old offensive coordinator, and he's been able to provide a spark there as well. And I think they're well coached. They came ready to play and they've won these past so many years. I think for our program, we got to understand that this is going to be a very talented football team that knows how to win football games and has competed against really good opponents all year long. They're not going to back down from us one bit. They're going to come in here wanting to win and put it to us and we're going to have to respond. So I just think that our team needs to understand it's going to take our best performance and a really good week of practice, and we can't think about anything else other than trying to prepare to win this game."
On his history with the Kentucky rivalry and what it means to him…
Brohm: "I think rivalries are great to play in, even dating back to my high school days. I understand the Trinity vs. St. Xavier rivalry and what that's all about. Not only does it mean a lot to your school, but to the fan base and to the city. And I think when it comes to in-state rivalries in college football and basketball, they're a lot of fun. It's fun for everybody to be a part of and everybody wants to come to the game to watch it and cheer on their team and try to have bragging rights. That's really one of the reasons you play sports is to provide entertainment and excitement for the for the fans and to be able to, at least for a year, brag on your team. Being able to come through in a big rivalry game where fans know each other, players know each other and there's just a whole lot of similarities within the whole mass of people. Both programs have had some ups and downs. I think for us, it's about trying to continue to win football games and keep momentum and we've got a very good opponent that we've got to go against. But I know our fans are going to be ready to go and they are going to want to win this game. And I think our players need to understand how much our fans want to win this game and we cannot have any letdown whatsoever this week. It has to be full speed ahead and 100 percent concentration on Kentucky."
On his success as a head coach in rivalry games…
Brohm: "I can't speak for anyone else. But I know, I take it seriously. Rivalry games mean a whole lot to me. Like I said, I've been a part of it. Going back all the way to high school days and even in college. And I understand that it's more about our team playing the other team. It's about the entire city, community, state and the fan bases wanting to go out there and compete and hope that their team wins. So this can make a lot of people happy or can make a lot of people sad. As a player, you don't want to make your fans sad and mad. So we've got to try to give them what they want. And in order to do that, we have to understand first the challenge that's ahead, which is a really good talented football team. And we have not been able to beat him here in the recent past. In order to do that, we're going to have to play better and play really good football. We found a way at Purdue to win the Indiana game, but it was always tight, and it was always going to go into the fourth quarter. You just have to hang in there and try to make less mistakes than the other team and find ways to create a few more big plays and hope that you come out on top. It definitely is a very, very important game that we've got to try to find a way to win."
On unhappy fans if Louisville can't beat Kentucky….
Brohm: "Well, I understand that and that's why after we let the last win sink in, we had to explain to our team yesterday in a lot of different ways that that needs to be erased for a full week and the full focus needs to be on this game, because in my opinion, this is the most important game of the rest of the season. So we can talk about it all we want, this is the most important game, and our guys need to understand that preparing and trying to win this game needs to be the complete focus. If we want to make our fans happy, and give them a good Thanksgiving, we've got to go win the game. We've got to really crank this thing up this week and understand what we're going against and make sure that come Saturday, we're able to execute at a high level because you know, this is an important game for everybody who's involved. Our fans will be out here wanting to see us win a football game against a good SEC opponent and we're going to have to play well to do it."