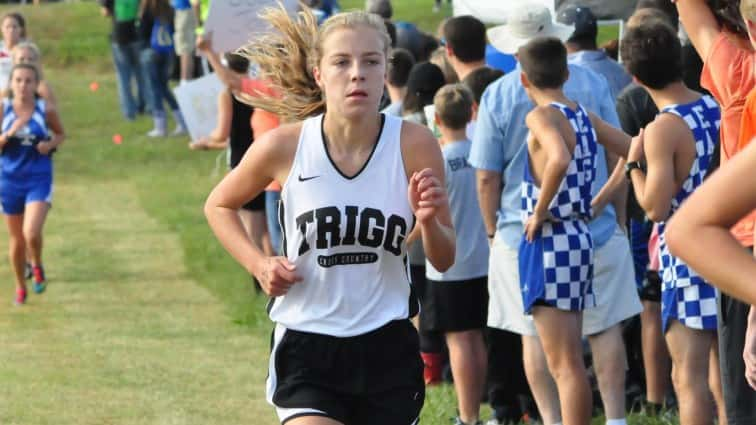 The tenth annual Fenton Dawson Invitational Cross Country Invitational Saturday proved to be one of the largest that Trigg County has ever hosted. The event was moved to the Trigg County Recreation Complex on Wednesday due to the weather. The move turned out to be a good move as several teams came to Saturday's event after other meets were canceled. As a result, 45 teams participated in the varsity and middle school races that featured over 560 runners.
Livi Ricks was the first Trigg runner across the finish line in the girls' race in 11th place with a time of 20:45 over the 3.1-mile course. Twin sister Lexi finished 24th in a time of 21:25.
Rylee Bush was 54th, followed by Grace Hill (76th), Breeanna Barnes (83rd), Isabella Alexander (85th), and Phelan Dossett (88th).
Trigg County finshed in eighth place as a team. McCracken County beat Graves County 26-72 for the team title. Hopkinsville was sixth.
In the boys' varsity race, John Chinn led the Trigg County runners with an 84th place finish in 19:09. Tyler Freeman was (93rd), followed by Alex Skinner (97th), Jacob Kent (145th), C.J. Ahart (151st), Walker Foutch (154th), and Apollo Blackbear Francis (156th).
Trigg County was 15th in the team competition. Apollo won the event with 48 points, followed by Marshall County and Muhlenberg County.
In the girls' middle school race, Reese Bush finished ninth in a time of 10:09 over the 2,500 meter course. Mari Kate Ricks was 41st, followed by Rose Owen (59th), Zoe Miller (61st), Madison Jenkins (74th), and Riley Brame (83rd). Trigg County finished sixth as a team.
In the boys' middle school race, Riley Thompson was the top finisher for Trigg in 30th place with a time of 9:25. He was followed across the finish line by Dallas Ahart (37th), Marshall Jenkins (41st), Austin Cavanaugh (65th), Jeffrery Hillyard (102nd), Gavin Papajeski (107th), Gentry Hyde (118th), and Dustin Malburg (124th). As a team, Trigg County finished ninth.