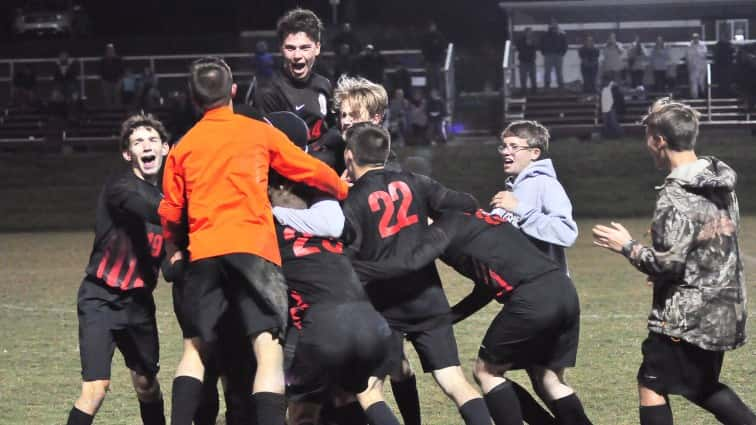 Trigg County struck quickly and then held off a late University Heights Academy barrage to hand the Blazers a 3-2 defeat in the Second Region Soccer Quarterfinals Monday at Madisonville. The Wildcats will play Henderson County Wednesday in the semifinals.
Trigg County scored in the game's first four minutes as Clayton Setliff headed home a cross from Cristian Llarena for a quick 1-0 lead.
Two minutes later, Elijah Gaines scored for a 2-0 Trigg lead, leaving the Blazers shocked at the early deficit.
Both teams had a couple of good looks the rest of the half but could not find the net.
As they did in the first half, Trigg County again struck quick at the start of the half, with Gaines scoring off a missed Will Jolly free kick less than 90 seconds in.
Down 3-0, UHA appeared to flip the light switch on and became more aggressive at midfield, winning possessions and stringing together eight shots in the final 21 minutes.
Scribby Goode got the Blazers on the scoreboard in the 46th minute when his shot from 25 yards hit the cross bar and caromed into the net.
UHA continued to pepper Trigg goalie Matthew Smith, who made seven saves – all in the second half.
Riley Simmons scored off an Ian Calvert cross with 8:34 left to bring the Blazers to within 3-2. While the Blazers had four shots in the final four minutes, they couldn't get the ball through Smith and the Wildcat defense to net the equalizer.
Blazer goalie Dan Johnson had five saves as the Blazers actually outshot Trigg 10-8.
UHA, who was looking for their first region tournament win in five years, sees their season end with a record of 12-6-1.
Trigg County improved to 13-5-1 and will play Henderson County Wednesday at 5:30. The Colonels beat Hopkins County Central 10-0 in the other quarterfinal.