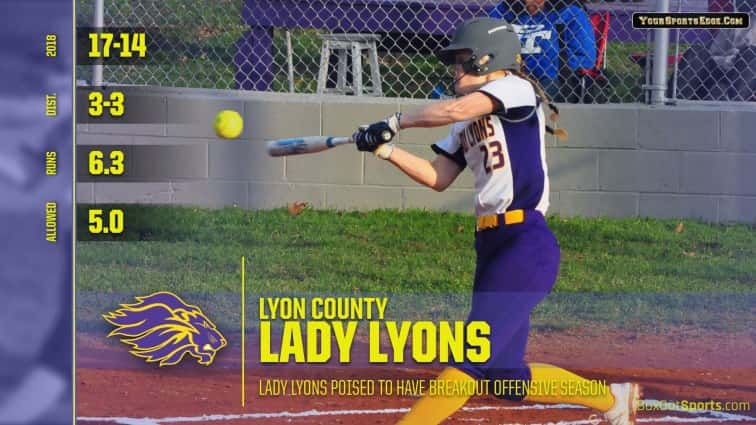 When Lyon County says it has a young softball team, it's really not kidding.
The 2019 Lady Lyons have no seniors on the squad and just two juniors.
However, Lyon is not without talent. It's still expected to be among the better teams in the region ­– and figures to only move up the list in the coming years.
A youth movement is nothing new for the Lady Lyons, who had just one senior last year. Lyon went 17-14 behind pitcher Sophie Bingham, who is now on the softball roster at Murray State University.
A strong sophomore class will lead the Lady Lyons this season.
That group includes Calista Collins, who was ninth in the state in batting average last season, hitting at a .604 clip. Collins, a shortstop, slammed eight home runs and had 26 extra-base hits. She also led the Lady Lyons with 42 runs batted in.
Another big-hitting sophomore returns behind the plate in Sydney Melton. She hit .425 as a freshman, with 12 extra-base hits and 16 RBIs.
Sophomore Kaelyn Conger hit .346 and knocked in 17 last season.
Conger will also be one of three pitchers who try to pick up the slack from Bingham, who was Lyon's primary hurler since eighth grade Bingham graduated as the school's all-time leader in pitching wins and strikeouts. She had 170 strikeouts in 130 innings last season and batted .367 at the plate. Bingham recorded her 1,000th career strikeout last year, becoming just the 23rd player in state history – and just the third in the 2nd Region – to reach that milestone.
Junior Allye Culp and sophomore Tori Schenk will also see time in the circle this season for the Lady Lyons. Conger and Culp will likely share time as starting pitchers while Schenk will be used primarily as a reliever.
When not pitching, any of the three could see playing time at multiple defensive positions.
Lyon figures to be strong offensively, but the defense could be a work in progress as head coach Jason Collins looks to plug the right pieces into the right spots.
Newcomer Hadlie Butler, a freshman, will likely play second base or left field. Another player new to the Lyon program, Nelli Walker, a junior, will play one of the corner positions on the infield or in the outfield.
Sophomores Kerstin Craft and Kyra Craft figure to see action somewhere as well.
Sophomore Rachel Coursey looks to be the starter in centerfield.
Eighth grader Gracen Wynn could also be a key contributor.
The 5th District is looking like it might be a three-horse race this season, with Lyon, Trigg County and Crittenden County all having designs on the championship.
The Lady Lyons will open what promises to be a challenging 2019 slate with three straight home games. Lyon hosts Murray on Monday before welcoming Madisonville-North Hopkins and Trigg to Eddyville on Tuesday and Thursday.