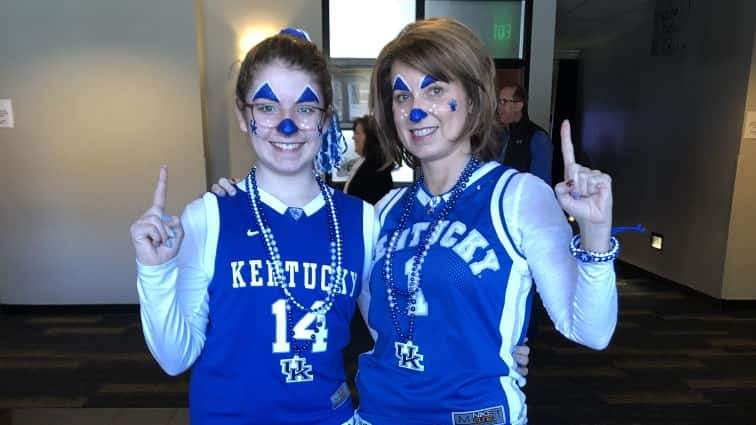 Vaught's note: Kentucky fans of all ages love the SEC Tournament. This year I got to meet sixth-grader Brooklyn Swatzell of Calloway County and asked her to share some of her experiences. Enjoy the insights from a young fan about her impressions of her first SEC Tournament.
By BROOKLYN SWATZELL, Contributing Writer
Hi, I'm Brooklyn Swatzell. I'm a sixth grader at Calloway County Middle School in Murray, Ky., and I got to experience my first SEC Tournament this year. I went to the tournament with my cousin, April Peal, my aunt and uncle, Ricky and Ava Peal, and their friends, Jim and Karen Primm. We stayed at my cousin's house in Franklin, TN, which is right outside of Nashville.
Every morning we would get up and get ready, but we would also paint our faces. April, Ava, Karen, and I would have cat eyes, nose, and whiskers. And Ricky had his mustache and eyebrows painted blue. Jim was a party-pooper and refused to have his face painted.
Thursday: On Thursday, Kentucky didn't play so the day was pretty normal. We got ready that morning and left. We were all walking down the street when we met someone from the local newspaper. She was in charge of taking pictures of Kentucky fans, and she got some of us. After that encounter we went to Rippy's and ate brunch. We met up with Larry Vaught, and he suggested I write this article since it was my first tournament. So, here I am. I was completely amazed by how many Kentucky fans were in the restaurants, on the streets, and in the arena even though we weren't playing until the next day. They weren't kidding when they said, Paint Nashville Blue.
Friday: It's Friday and finally a UK game day. We got up and decked ourselves out in UK gear, face paint, and pretty much everything else you can think of. After we got ready we went and ate with LaMont and Anne from the K-Fund, at the Diner. After that we went over to Bridgestone to watch Florida and Auburn win. Before the Auburn-South Carolina game was over, Karen and I went downstairs to walk around. We ended up getting on the Paul Finebaum Show. His guest was (country music singer) Eddie Montgomery, and we got to meet him and take a selfie. When we were coming out of the morning session, there were already hundreds of Kentucky fans in line to get into the night session to watch Kentucky, " Roll Over The Tide." There was so much blue in the arena that night, it was crazy! It was so much fun watching the players avenge their loss to Alabama earlier in the season.
Saturday: We got up, got ready, and ate breakfast at the Diner again since it brought us good luck on Friday. We had Kentucky fans stop and ask us to take pictures with them — we even had fans from the other teams. While watching the Auburn-Florida game we were wishing it was over so we could play. I was surprised by the amount of Tennessee fans. However the Big Blue Nation still outnumbered them. In fact, we were able to drown out the band playing Rocky Top with Go Big Blue chants.
The game was exciting, but also very stressful. It was close throughout, with one big shot after another. At times it was so loud in there I couldn't hear myself think. Unfortunately, Tennessee came out on top, and my first SEC Tournament ended on a sour note.
However, it was a fun experience with family, friends and fellow Big Blue Nation members, that I will never forget. I love the Cats, and will continue to cheer them on throughout the NCAA Tournament. Go Cats!