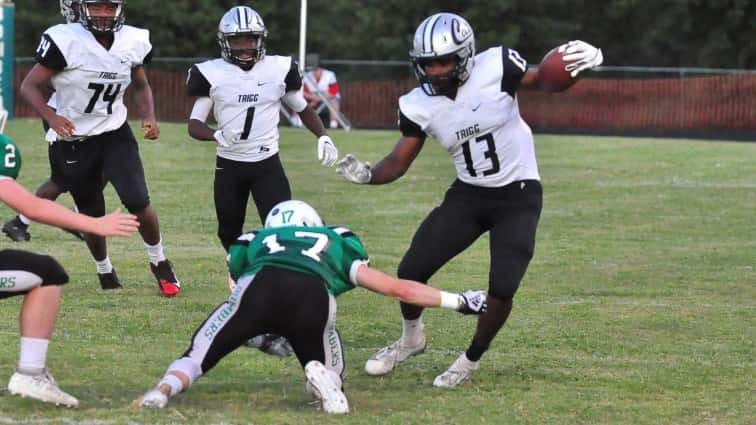 Trigg County made quick work of Ballard Memorial, rolling the Bombers 46-8 Friday night for their fourth straight win that included a second half running clock.
The Wildcats scored four times on their first six plays in building a 27-0 lead after the first quarter. Tayshaun Barker scored on a 54-yard run and caught a 63-yard pass from Cam Jordan in that opening quarter.
Jordan found Kion Thompson on a 46-yard scoring strike down the right sideline and added a 1-yard run. The latter touchdown came after a long punt return by Jaquellus Martin that saw him zig zag across the field before running out of gas and tackled at the 1-yard line.
Trigg added two scores in the second quarter. Jordan's third touchdown pass of the night found Andrew Syester for 36 yards with 9:34 left in the frame.
The Wildcats scored their final touchdown of the half when Jordan found Josh Visingardi for a 14-yard gain. He fumbled as he turned up field, and Jakobe Bridges picked up the ball and ran it the final 25 yards for the score.
Up 40-0 at halftime, Trigg's lone score in the second half came on a 33-yard run by Jacob Johnson in the third quarter. The second half was played with a running clock and two 10-minute quarters.
Ballard Memorial got on the board with 4:04 left in the game on a 28-yard run by Trevor Howard.
Trigg finished with 388 yards of total offense on just 21 plays. Jordan was 6-of-8 passing for 177 yards and three touchdowns. Six different receivers caught passes and only Bridges caught two.
Barker had one run for 54 yards and one catch for 63 yards – both touchdowns. Johnson had three carries for 33 yards, and Kelsey Parham added four carries for 57 yards.
Ballard Memorial had 123 yards on night, with Howard leading the way with five carries for 42 yards.
Trigg County (4-0) will host Murray next Friday for their annual homecoming at Perdue Field.