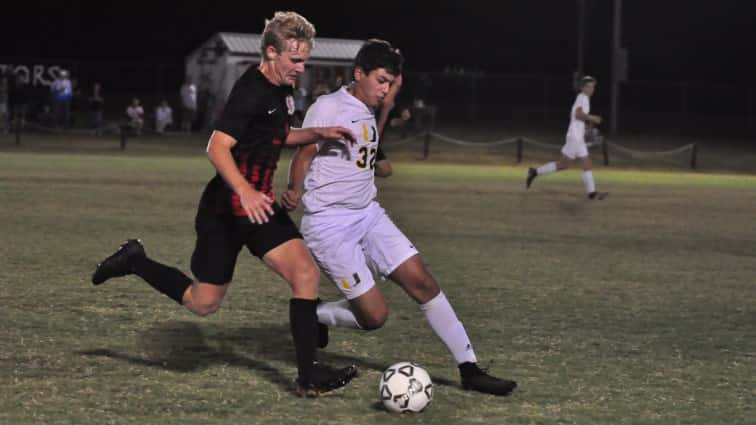 Maybe it was the first game this season without sweltering heat. And maybe it was because both teams didn't know how much they had in the tank after playing twice Saturday. But for two teams that are not in the same district, Trigg County's soccer match Monday with University Heights had all the feels of a postseason matchup.
The match finished in a 2-2 tie and when the final whistle blew, Trigg County felt elated after scoring a late goal to force the tie. UHA on the other hand felt like the game had been taken from them after two second half goals were disallowed by the officials that would have sealed a win.
Trigg County, who won one and tied one Saturday at Madisonville's Donley Classic, scored first when Clayton Setliff banged home a missed shot seven minutes in for a 1-0 lead.
UHA, who went 1-1 Saturday at the All-A Classic State Tournament in Frankfort, turned up their defensive pressure and forced the ball into their end of the field midway through the first half. The Blazers got the equalizer in the 25th minute when Dylan Edmonson scored a header off a Tanner Thomas corner kick.
UHA appeared to grab a 2-1 lead early in the second half, but Ethan Hale's goal was disallowed for goalie obstruction in the box.
The Blazers had a second goal nullified in the 60th minute when a Will Bryan tally was waved off due to an offsides call.
UHA continued their assault on the goal in the second half, outshooting the Wildcats 10-6 in the half and 16-10 for the match.
Hale appeared to score the game-winner for real with three minutes left when his direct kick from 40 yards somehow made it throw a myriad of players in front of the goal and into the net for a 2-1 Blazer lead.
But in a foreshadowing of just how crazy the night was, UHA's student section began chanting "I believe that we have won" just a minute into the stoppage time. Less than a minute after that, Daniel Jimenez fed Will Jolly with a high bouncing pass at midfield. Jolly controlled it and tapped it past the charging UHA goalie. With the ball rolling toward the goal, Jolly finished it off to knot the game at 2-2.
While the Wildcats felt fortunate to escape with a tie, UHA felt no such warm and fuzzies afterwards. Despite the tie, both coaches had to feel good about the way their teams responded from their long weekends.
Trigg County is now 11-1-2 with their second tie in three outings. They will play at Caldwell County Thursday.
UHA is 9-4-1 with their first tie of the season. The Blazers will play at Webster County Tuesday.