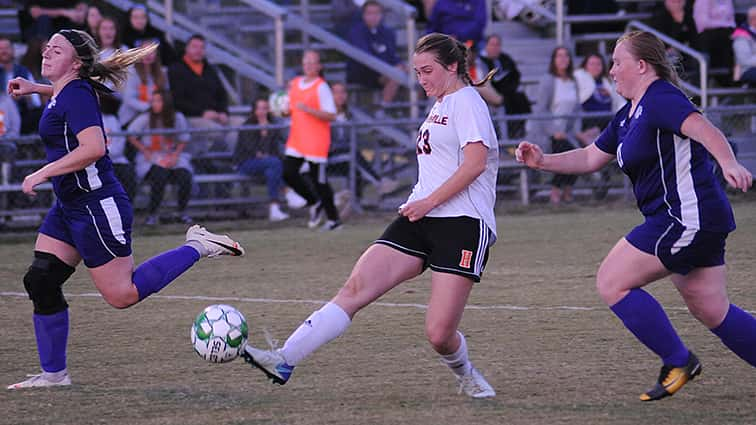 Keeli Miles netted four goals and Abby Moss scored three times as Hopkinsville moved into the 2nd Region semifinals with a 7-1 win over Lyon County Monday night at the Stadium of Champions in Hopkinsville.
Miles got her first goal in the 4th minute, then scored again in the 17th minute to put Hoptown (12-9-1) up 2-0.
However, Lyon (9-13) made a game of when Rose Smith scored on a long shot in the 26th minute to trim the Lady Tigers' lead to 2-1.
But Moss helped Hopkinsville take a 3-1 lead to halftime when she beat the defense to the ball in the 32nd minute and shot one past the goalkeeper for her first goal of the night.
Miles had a hat trick in the 52nd minute to make it 4-1.
Moss scored her second goal in the 56th minute, then found the net again in the 61st minute to record her hat trick.
Miles knocked in her fourth goal in the 63rd minute to extend the margin to 7-1.
Moss also had a pair of assists in the contest.
Sarah Johnston had two assists as well while Miles, Grasen Givens and Morgan Woosley each had one helper.
Vy Nguyen made six saves in the Hoptown net while allowing just the one goal.
Hopkinsville will next take on Henderson County in the semifinal round on Wednesday.