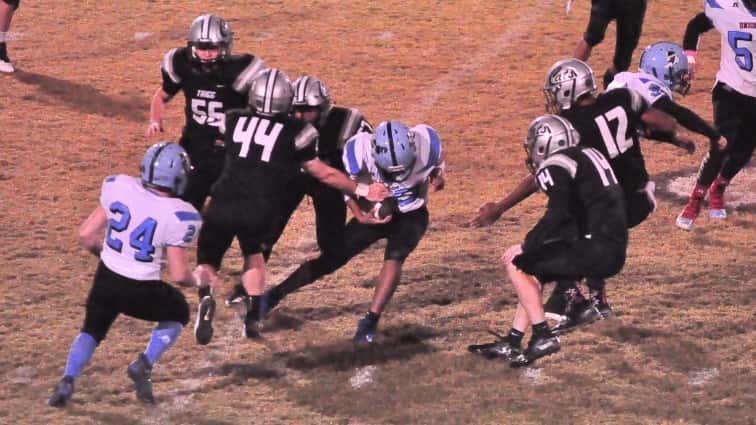 For the first time in five years, Trigg County is hosting a first round home game for the football playoffs and looking to advance to the second round. The Wildcats host Union County for the second time in three weeks Friday at Perdue Field.
Trigg's 33-7 win over the Braves Oct. 25 assured them the No.2 seed in the district behind Paducah Tilghman and a postseason home game.
The Wildcat offense has put up solid numbers in nine of their ten games during the season. While their defense has been spotty at best, they held Union County to 151 rushing yards in the 26-point win at Perdue Field two weeks ago. It's the only time in their final six games they allowed fewer than 30 points.
Trigg County is scoring 39 points a game, which ranks as third-best in school history. However, they are giving up 28 points a game. Which defense shows up will determine whether Trigg County moves on to the second round.
Wildcat quarterback Cam Jordan has thrown for 1,777 yards which ranks as fourth-most in a season. If he has a 233-yard night against the Braves, he would become only the second Trigg QB to top 2,000 yards in a season. He threw for 127 yards and a touchdown against Union two weeks ago.
Jordan needs just nine yards to pass Luke McKenzie for second place on the career yardage mark at TCHS. Last week, he threw for 423 yards on a school-record 25 completions.
In the Trigg win over Union two weeks ago, Cade Bleidt ran for 143 yards and two touchdowns. For the season, he is second to Jordan (627) in rushing yards with 474.
Union County (5-5) beat Calloway County 28-0 last week to snap a two-game skid. The Braves ran for 348 yards and four touchdowns in the win while holding the Lakers to just 108 yards.
Corithian Seales-Portee ran for 120 yards and three scores. After missing over half of the season with a leg injury, Seales-Portee returned against Trigg County two weeks ago with 54 yards on 12 carries. He is averaging 137 yards per game on the season.
Union County, who averages 176 rushing yards a game, was held to 151 on the ground by the Wildcats two weeks ago. However, it was a 7-7 game at halftime before Trigg County broke the game open in the second half.
Friday marks the first time the teams have met in the postseason. The overall series is tied 7-7.
Union County is making their 30th career playoff appearance. They are 9-29 all-time in the postseason and have lost nine of their last 10, including six straight. They last advanced past the first round in 2013.
Trigg County is making their 28th career playoff appearance. The Wildcats are 24-25 all-time and will be looking to win a first round game for the first time since 2014.