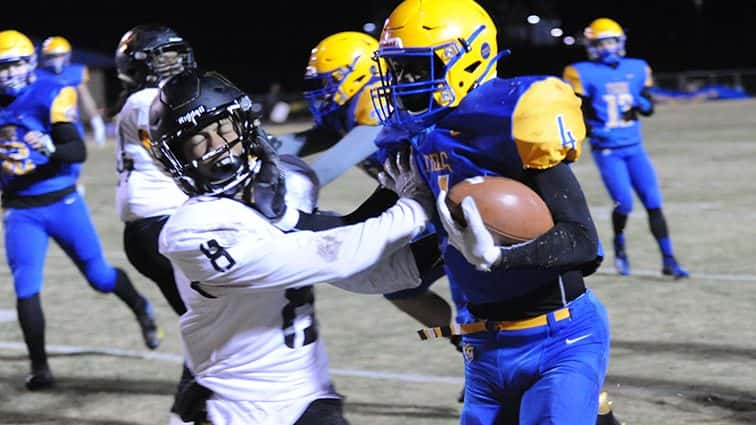 Caldwell County couldn't conjure up some magic for the third game in a row.
After winning 42-40 at Murray and 56-54 at Trigg County, Caldwell found itself trailing Murray in a playoff rematch Friday night.
However, a quick five-play drive cut Murray's lead to 21-17 with 8:52 to play.
Russ Beshear hit DeEric Hollowell with a 9-yard scoring toss to finish the drive and seemingly give Caldwell the momentum.
But things changed quickly on Murray's ensuing possession. The visiting black-and-gold Tigers caught a break when they recovered their own fumble on the first play of the drive. On the second play, a Caldwell defender slipped down, allowing Rowdy Sokolowski to hit Jorden Duffy down the middle for what turned into a 68-yard touchdown reception.
Murray added another score later on a 14-yard run by Sebastian Lawrence after Caldwell turned the ball over on downs and posted a 34-17 victory in the Class 2A first round matchup at Tiger Stadium in Princeton.
Murray, now 8-3, will visit Mayfield in the second round next week.
Caldwell, which ends its season at 8-3, got off to a quick start on Friday.
A 27-yard field by Blake Vivrette and a 49-yard touchdown pass from Beshear to Tripp Branch staked Caldwell to a 10-0 lead early in the second quarter.
But Caldwell had trouble checking Murray receiver Tommy Waldrop, who caught the game's next three touchdown passes from Sokolowski, who was making just his second start after an injury to Hunter Utley.
Waldrop had a 20-yard TD reception to get Murray on the scoreboard, then used a 14-yard grab just before the break to put Murray up 14-10 at halftime.
A 59-yard reception by Waldrop deep down the middle stretched the Murray lead to 21-10 in the third quarter before Caldwell tried to rally in the final period.
Waldrop finished the night with 14 receptions — the most ever by a Caldwell opponent — for 184 yards.
Sokolowski completed 19 of 28 passes for 288 yards and four scores.
For Caldwell, Hollowell ran for 101 yards but needed 23 carries to top the century mark.
Beshear passed for 196 yards and ran for another 52.
Branch made four catches for 111 yards.
Murray finished with 399 yards of offense while Caldwell tallied 348.
But Caldwell missed on two trips into the red zone and had to settle for a field goal on another trip after having a touchdown run called back by a penalty.
Ben Holt led the Caldwell defensive effort with 10 tackles.