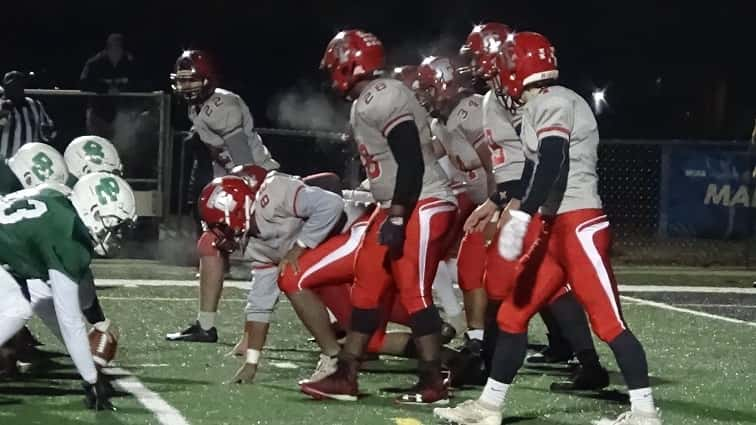 Looking for its first playoff victory since 1996, the Todd County Central football team was overrun 46-22 by hosts Owensboro Catholic (9-2) on Friday night at Steele Stadium on the campus of Kentucky Wesleyan College.  The Rebels fall to the Aces for the second time this season, with a 48-24 setback in late September putting a stop to Todd County's five-game win streak to start the season.
The Aces opened the scoring with 4:35 to play in the opening quarter when quarterback Drew Hartz hit Finley Munsey for a 3-yard touchdown catch and a 7-0 lead.  Just two minutes later, Dre Thruston got his big night started with a 65-yard punt-return touchdown to double the Owensboro Catholic advantage.
However, the Rebels answered on a 6-yard TD run by Jonathan Flores after JaTwan Graham rumbled 60 yards to put them in scoring position.  Nate Reding's extra point hit the upright and the score was 14-6.
But any momentum the Rebels built was halted with less than a minute to play in the opening quarter when Thruston found the endzone for the second time on a 39-yard run.  After an interception by Hagan Edge on the first play of the second quarter gave O Cath the ball on the Rebels' 24, Hartz followed with a 24-yard TD strike to Braden Mundy to build a 3-score halftime lead.
The teams traded touchdowns throughout the second half, with the Aces scoring on a short Christopher Boarman run and a 35-yard catch and run by Thruston, with a 34-yard TD run by Todd County's Omarion Riddick in between.
Quarterback Bryce Nolan found Preston Moore with a 31-yard TD pass with 3:42 left in the fourth, trimming the Owensboro Catholic advantage to 40-22.  But the Aces closed the show, with Hartz throwing his fourth touchdown of the night on a 19-yard completion to Max Byrne.
The Rebels finish the season at 6-5 for the second time in three years, with the 17 wins over that time more than the total of the previous ten seasons.  Coach Darell Keith will have fourteen seniors to replace, including quarterback Bryce Nolan, running backs JaTwan Graham and Jonathan Flores, leading receiver DJ Johnson and leading tackler Tanner McCuiston.