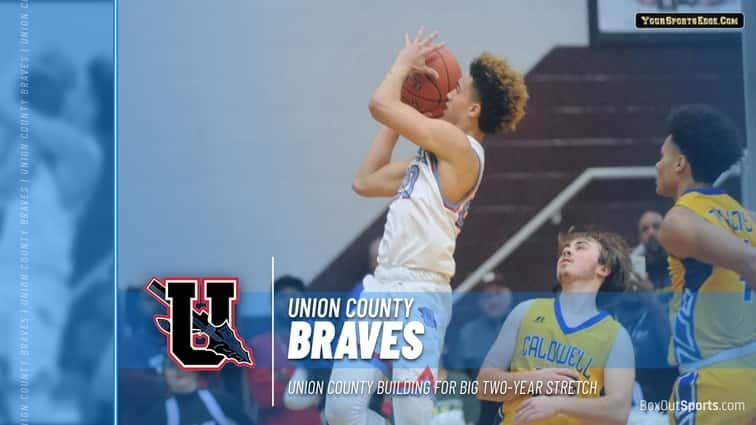 Union County is gearing up for a big two-year stretch as the Braves look to end a two-decades region title drought.
Coach Shane Smith returns four of his top six scorers from last year's team that went 19-9 and won the school's first district title in 19 years. The Braves lost a close three-point battle to Caldwell County in the first round of the region.
The Braves will be led by a talented junior class that has heaped a load of expectations on their shoulders. Junior guard Kale Gaither had the breakout season many people were expecting last year when he scored 22.9 points a game while hitting 52-percent of his shots. Gaither showed the ability to take defenders off the dribble or knock down the outside shot.
Gaither will be joined in the Braves' backcourt by junior Eli Wilkes, who scored nearly six points a game and was second on the team with 30 three-pointers made.
Keishon Martin, the only senior listed on the Union County roster, played in 26 games last year and will be a key role player for the Braves. Smith said sophomore Eli Mackey and junior Izaiah Manuel will also factor in backcourt roles for the Braves this season.
Union County features some size that other region contenders, with the exception to Madisonville, cannot match.
6-3 junior Iverson King (5.4 ppg., 4.1 rpg.), 6-4 junior Kaleb Kanipe (6.5 ppg., 5.4 rpg.), and 6-7 junior Clem Johnson (1.8 ppg., 3.5 rpg.) will hold down the inside for the Braves.
Smith said the core group he has returning should make his team better at defense and rebounding this year.
The Braves have the pieces in place to make a run in a region that sees several teams looking to replace their top scorers. What they do this year should lay the ground work for a 2020-21 season that could see them enter the season as the favorites to win the region.