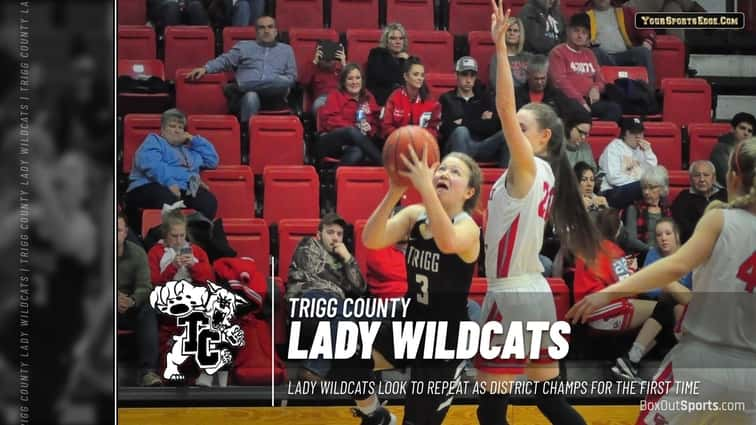 It's been a while since Trigg County girls' basketball has had expectations this high as they enter the 2019-20 basketball season.  The Lady Wildcats are coming off a 16-win season that saw them win their first district title in a decade.
The Lady Wildcats lost three guards to graduation and a fourth, DeDe Barbee, decided not to return to the team.  Despite those losses, Trigg should still have the quickest backcourt in the district.
Senior Emily Noffsinger (4.8 ppg.) returns at the point, and her freshman sister Olivia (2.2 ppg.) will play both the point and two-guard this year.  Junior Iyanna Grubbs could be an impact player for the Lady Wildcats this season.  She has improved her offensive game and gives the Lady Wildcats quickness on defense.
Another player who will see increased playing time due to her off-season work is freshman Tajah Grubbs.
Senior forward Rylee Bush (9.2 ppg., 6.8 rpg.) led the Lady Wildcats in scoring and rebounding in 2018-19.  With the team's depth at guard, Bush can concentrate on playing closer to the paint and utilizing her 10-15 foot jumper that has been a staple of the Lady Wildcat offense.
Junior Adri Phillips (6.9 ppg., 5.8 rpg.), who had two strong games in the district tournament last year, has added a perimeter shot to her already successful slashing resume on offense.
Sophomore Marleigh Reynolds (5.1 ppg., 5.2 rpg.) continues to add to her game inside and keeps extending her outside shot that makes her more than a back-to-the-basket center.
Juniors T.T. Grubbs (3.4 ppg., 4.4 rpg.) and Kara Hyde also give the Lady Wildcats different looks at the forward position.  Grubbs is a blue-collar worker in the paint, while Hyde can shoot the three and rebound.
Cory Coble has wanted his teams to play fast and shoot threes since the day he was introduced as coach four years ago.  He now feels like he has a team that can play fast, play pressure defense, and score in transition.
Trigg County has beefed up their schedule a bit in 2019-20 as they try and win consecutive district titles for the first time in school history and win a region tourney game for the first time in three decades.
The Lady Wildcats open their season Tuesday at Paducah Tilghman.