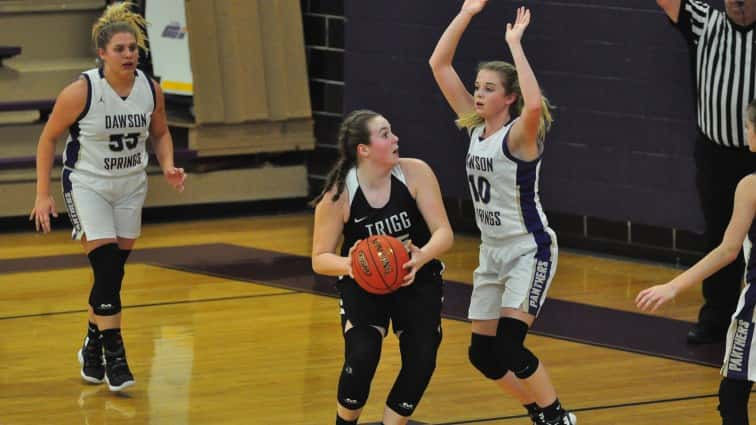 Trigg County shook off a slow first half and rallied to beat Dawson Springs 49-43 in overtime at the Panther Pit Tuesday.  The Lady Wildcats moved one victory away from the 20-win mark for only the second time in school history.
Trigg County trailed at halftime 24-15 as the Lady Wildcats missed 23 of their 29 first half shots.
The Lady Wildcats came out strong in the third quarter as Adri Phillips scored seven points during a 9-0 run to tie the game.  Dawson Springs was held without a field goal in the quarter as they were outscored 16-3.
Denisha Randolph hit a pair of 3-pointers in the fourth quarter that twice gave the Lady Panthers the lead.  The last one came with 2:15 left that gave Dawson Springs a 40-37 lead.
Trigg tied the game on a Marleigh Reynolds free throw and later a Ryle Bush bucket with 1:03 left.  Trigg got the ball back and held for the final shot, but missed a potential game-winning 3-point shot before the horn.
Reynolds opened the overtime with a pair of buckets as part of an 8-0 Trigg run.
After hitting 5-of-19 free throws in a Monday loss to Hopkinsville, Trigg County hit 5-of-7 in the overtime period and 9-of-13 for the game.
Neither team was efficient from outside.  Trigg missed 23-of-27 three-point attempts, while Dawson Springs missed 23-of-29.
Phillips was the lone Trigg player to score in double figures with 13 points.  Reynolds had nine points and 13 rebounds, and Bush scored six points and pulled down 11 rebounds.
Brooklyn Clark, who came into the game averaging 21 points a game, scored 12 points on 3-of-16 shooting.  Abby Ward scored 10 points, and Jalynn Hooper scored eight points and had a game-high 15 rebounds.
Dawson Springs (7-15) will travel to Crittenden County on Friday.
Trigg County (19-6) will play at Christian County Friday.
Trigg County            5    10    16   9    9—49
Dawson Springs      11  13     3   13   3—43
Trigg County (19-6) – Phillips 13, Reynolds 9, Hyde 7, Bush 6, T.T. Grubbs 6, O. Noffsinger 5, E. Noffsinger 3
Dawson Springs (7-15) – B. Clark 12, Ward 10, Randolph 8, Hooper 8, G. Clark 3, Oldham 2