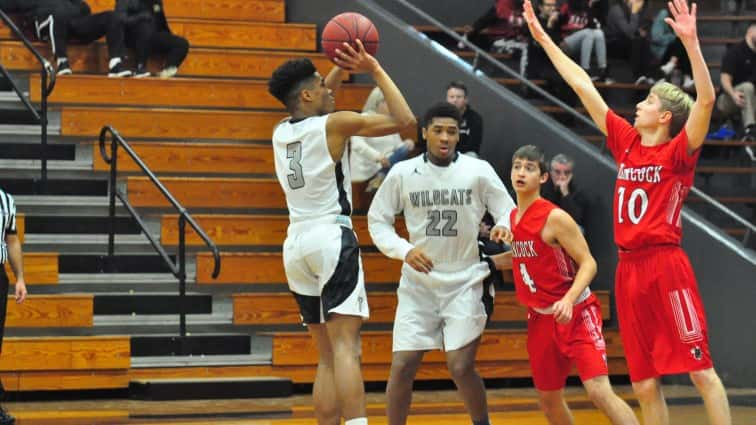 Chad Burgett's first season at Trigg County was full of growing pains with a young squad that missed advancing to the region tournament for a fourth straight year.
The Wildcats finished 4-2 in district play and earned a No. 2 seed in the district tournament. Their season ended with a 61-59 loss to Crittenden County in the district semifinals.  Trigg finished with a record of 11-19 – their third straight 11-win season.
So, what worked for the Wildcats in 2019-20?  Their athleticism and length made things difficult on defense for some teams.  Burgett was hoping that would make for a team that could rip, run, and press their opponents.  However, the Wildcats topped 80 points just four times during the season.  They averaged 58 points a game, which was the most for a Trigg County team in three years but left them in the middle of the pack in the Second Region.
Their inconsistency on offense was part of the reason why they had two separate six-game losing streaks during the season.
Perhaps for the first time ever, Trigg County was led in scoring by an eighth grader.  Jordan Miles scored 12.3 points a game and led the team with 43 three-pointers made.  He teamed with fellow eighth grader Jhaden Vaughn to form a solid backcourt for the Wildcats.  Vaughn averaged 9.5 points and five rebounds.  Burgett was able to use Vaughn's size to post up smaller guards and used him primarily at the point.
Junior Kion Thompson missed nine games during the season but still averaged 10.6 points and shot a team-best 31-percent from 3-point range.  He scored 23 points in Trigg's district tourney loss to Crittenden County.  He gives Trigg the chance to employ a three-guard offense and try and give the Wildcats the up-tempo style Burgett wants.
Trigg's inside tandem of sophomores Kendric Adams and Khyran Vaughn have to find a way to stay out of foul trouble and stay on the floor longer.  They combined for 18 points and 15 rebounds a game.  Both had monster games throughout the season, but Burgett is hoping for more consistency from his inside players.  Their improvement could give the Wildcats a big boost in 2020-21.
Trigg loses seniors Jakobe Bridges (7.2 ppg.) and Shaun Terrell (2.0 ppg.) to graduation.  No other player scheduled to return next year averaged more than to points a game.
Burgett has a pair of priorities this summer.  One, is get is probable starting five working in sync on both sides of the ball, especially on offense.  However, for the first time in a long time Trigg's starting five may all be playing football in the fall.  That makes this an important summer for the Wildcats.
Two, Burgett has to develop depth from a group of players that didn't see a lot of varsity time.  And they aren't a big bunch so the team will be deep at guard and thin inside.
Trigg County has a lot of young talent.  But so does Lyon County and Crittenden County.  Both teams are scheduled to return four starters.  And Livingston Central returns a pair of guards that combined for 55 points in their district tournament loss to Lyon County.
That's why this summer could be make-or-break for Trigg County's 2020-21 season.