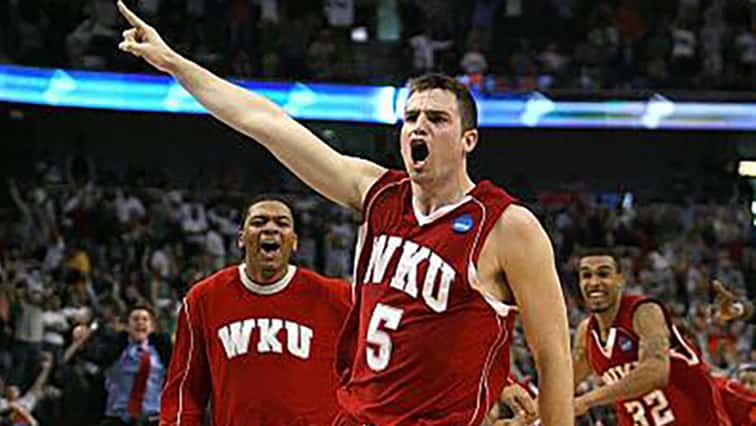 It was a career-defining moment.
As the final horn began to sound in Western Kentucky's first round NCAA Tournament game, the scoreboard read: Drake 99, WKU 98. The Hilltoppers' fate rested on a 26-foot shot from near the right sideline that had left Ty Rogers' hands just an instant earlier.
But there was no doubt in the minds of those who witnessed Rogers' high school exploits, which included 3,300 points and more 3-pointers at Lyon County than any player in state history.
Swish.
Pandemonium.
Twelve years ago, March 21, 2008, Rogers raced around the court at the St. Pete Times Forum in Tampa, Fla., and was eventually mobbed by teammates in celebration. He then pointed to friends and family in the stands.
The 12th-seeded Hilltoppers had upset No. 5-seed Drake 101-99 in overtime.
Shouts rang out across western Kentucky as one of its native sons delivered a shot that would be still shown in highlights today — if there was an NCAA Tournament this year.
Pictures of Rogers' shot appeared in newspapers around the country. A large photo of the moment still hangs at Diddle Arena in Bowling Green.
The buzzer-beater not only made Rogers a fixture on highlight reels for years and years, it also won him an ESPY Award for "Best Finish" at ESPN's annual awards show.
WKU teammate Tyrone Brazelton said following the victory over Drake that the winning play was designed to get the ball to the rim — since the Hilltoppers only trailed by one. But coming out of the timeout, Rogers told Brazelton he had a slightly different plan in mind.
"He said, 'Don't be afraid to kick it to me,'" Brazelton said.
And he wasn't. Brazelton crossed halfcourt, zigged to his right and threw a perfect pass right to Rogers' hands.
The rest is history.
"It kind of worked out good," Rogers said, in the understatement of the tournament.
Western Kentucky went on to reach the Sweet 16 before losing to top-seeded UCLA 88-78.
The Hilltoppers defeated No. 13-seed San Diego 72-63 in the second round.
But Western Kentucky's 2008 run will always be remembered for "the shot."
"It's been unbelievable. I just thank God once again for all the blessings he's given me," Rogers said later. "That one moment in life has done so much for me in just a (few) months — it's given me opportunities to speak at different places and now this — it's just been unbelievable."